Fahad Faiz
Fahad Faiz is the managing director of Faiz Accountax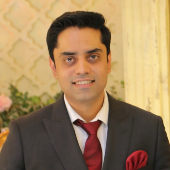 When I was an 8th class student in Pakistan, we were given subjects choices for our upcoming O levels and it was a choice between science subjects or business subjects. There was an accounting firm right next to our school so I asked the owner for guidance and prospects for becoming an accountant. As a child, I'd heard that becoming a qualified accountant was tough but the owner told me that if I worked hard, then one day I would have my own firm. That's the day I decided to become a qualified accountant and open my own firm.
After completing my A levels, I registered as an ACCA student after researching different accountancy bodies.
"One thing which inspired me to join ACCA was the flexibility and partnerships with major global accounting bodies. "
I figured that if I needed global mobility and the flexibility of working in different countries then becoming an ACCA member would enable me to go to any major economy of the world and find work.
I decided to study ACCA in UK. The journey was not easy as I was a young student - not yet 18 - in a foreign country without any family members. I kept my focus on my goal and worked hard to clear ACCA challenging exams while working part time in an accountancy practice which gave me a chance to apply knowledge learned in college into real life.
I was lucky to have a workplace mentor who helped me on every step of my journey. He placed trust in my abilities when I was young and gave me a chance to achieve all the technical competencies.
"A workplace mentor can either bring the best out of you or can negatively affect your abilities and potential."
I completed the exams, became a member and got a practising certificate. As my work responsibilities increased, I developed a greater interest in tax and realised that to give the best value to clients once I had set up my firm, I needed to be more skilled in tax matters. So I studied in the evening and on weekends to became a tax specialist through the CTA qualification.
Once I'd done that, I knew the time had arrived to bring my childhood dream of running an accountancy practice into reality. Today after 13 years of exams, work and all those performance objectives, as a 30 year old now I am finally running my own accountancy and tax practice in London.