Farhan Nagda
Farhan Nagda is the Managing Director at Edge Accountants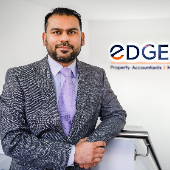 Having such a passion for financial services in my DNA, I was destined to achieve my dream of building a firm that can benefit the general public with premium services at a good value. My father was a banker so my interest in accountancy and finance came to me naturally. We come from a place where basic living necessities were a huge luxury, and we have always been intrigued by how money works; I was determined to educate myself and provide for my family. I've worked in the financial industry most of my career – whilst also working part-time in practice – as my goal was to have my practice someday.
"Running your practice gives you independence and a chance to become a catalyst of change in small businesses"
I think most people would like to have their own business at some point to have that freedom and use everything they have learned and apply their knowledge and skills and make decisions themselves that they couldn't do if you were working in employment. I've been running my practice for more than four years now.
When I was in the industry, my experience was with blue chip companies like DHL, Hilton, the European Commission, Barclaycard, and Jaguar Land Rover. Alongside my part-time role in practice, I got the best of both worlds in terms of experience. My industry experience allows me to bring the corporate touch to my practising business clients by way of processes and to have a long-term view. I can apply this experience from successful corporates to benefit my practice, which in my view, is fundamental when developing a business. Such advice and my experience can be life-changing for a business that doesn't know processes and financial management well.
It's challenging running your practice. When I worked for other companies, I worked 9 to 5, and I didn't have to worry about HR, marketing, strategy and expansion plans - I just did my job and then went home. In practice, I am responsible for all aspects of the business. However, now I have a team of talented people who manage these business areas.
I must comply with the latest developments in the accountancy practice, including the latest IT developments so that we provide the best service possible to our clients. You must ensure that you do all of these things as a growing practising firm, and it is not easily achieved as I work long hours. It is no longer the traditional 9-5 anymore as some days I work from 8 am till 10 pm. I'm living and breathing my business, however, it doesn't feel like work to me as I'm incredibly passionate about what I do. I feel fulfilled when I successfully problem-solve, advise, and assist a client.
As an ACCA representative, I recently attended a Westminster roundtable on late payments for SMEs. Small Business Commissioner Liz Barclay was there to hear how late payments of overdue invoices and the imposition of extended payment terms impact my SME clients. I have insight from my time at big companies and their privileges on favourable lending terms, but what about small businesses?
"SMEs account for 98% of the economy, and they are being neglected – I will continue to advocate for my clients wherever I can"
We are an integrated advisory firm providing advice on property tax and accountancy matters, financial brokerage services, and complete legal support to property investors, landlords & developers. We offer holistic services under one umbrella, from helping you to secure the best mortgage rates to assist with the conveyancing.
We know our clients are busy, and we assign a dedicated client manager to ensure you get the best support and guidance. We'll take the time to understand what type of property investor/developer or landlord you are and how your portfolio is performing.
It's a lot of regulation – my partner & I are triple-regulated. It isn't easy, but it's the industry we chose, and we have to ensure that we are fully compliant, that our clients are treated fairly, and understand the pros and cons. To avoid conflict of interest, I lead the accountancy division, and then my partner is FCA-registered and looks after the other division.
Culture is critical in my practice, and we make sure that every recruit has the suitable DNA for our practice so that they will fit in well. Once they are in practice, we draw on the strengths of each team member – some will prefer to be client-facing, and others will prefer to focus on the technical side – but we take an individual approach to develop each person and assist in furthering them in the industry.