Joseph Cox
Joseph Cox is the Managing Partner of Ecommerce Accountants LLP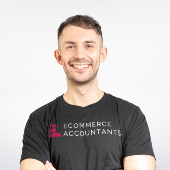 After I graduated from university, I was offered an entry level position at a small accounting firm in London run by a friend of the family. They offered to sponsor me through ACCA, which I gladly accepted and haven't looked back.
As it was a small firm (1 partner, 4 employees) I was almost immediately exposed to a huge range of work and so my skills quickly developed. I enjoyed the variety and have always found that this broad exposure made it easier for me to speak with clients.
At the time (early 2010s) OCR technology wasn't a thing and we used Sage Line 50 – so there was lots of manual entry, which was something I very much did not enjoy. So, when I found out about cloud software, I quickly encouraged the firm to adopt these and spearheaded a lot of change to paperless.
During this time, I started a separate business on the side with some friends – where we created a brand of pet toys, which we had produced in China and then we sold via Amazon FBA. Since Amazon handled the sales and fulfilment, the business was relatively passive and could be managed in the evenings and weekends.
After I was fully qualified that business continued to grow, so I quit my job and wanted to focus on ecommerce full time. At this time, I did not want to handle the accounts for our business, as I wanted to focus on improving the operations, however, I struggled to find an accountant who specialised in ecommerce, which is where the idea for my current firm, Ecommerce Accountants LLP, began.
The issues that I found were that nobody understood how to easily take data from marketplaces and put them in a suitable format. They also struggled to understand VAT implications as each platform might have had goods stored in different locations or been invoicing for different services from different entities. There are quite a few pieces of software that make this easier now, however, originally everything had to be done manually.
I have now gone full circle and no longer operate an ecommerce business. Instead, I operate Ecommerce Accountants, which is the leading accountancy practice in the UK for ecommerce businesses. The firm has been going for 7 years and our team is currently around 25 people.
In recent years, our clients have been fortunate in that the industry benefited from a boom during the pandemic. However, in recent times, shipping and energy prices have pushed up costs, while low barriers to entry, along with the pandemic boom, have meant that competition has come flooding in. In the past year we have seen many of our previously successful clients become forced to liquidate due to these pressures.
These days things feel much more hectic than when I started my career. It feels like we are constantly being bombarded by service providers trying to sell us a product that we can and should be using to sell to our clients. From reporting, accounts payable, business advisory to AI – If you've been to any accounting event in the past 2/3 years, you will know what I mean.
Originally, I used to try and test each piece of software and try to implement them with our clients, but then would find out about a competitor or receive a webinar invite about X and sort of become paralysed. My approach now is to effectively say no to all of it, unless I'm in the market for something, so that I can focus on our clients.
If you are starting your own practice then as tempting as it might be to initially get some clients in the door, do not underprice yourself or your services. If you do this, then the types of clients that you start with won't necessarily value your services and those that are super price sensitive won't want to pay more later anyway. Then, if you aren't pricing yourself profitably, it will be very difficult to be able to afford to build a team and grow your practice, which risks leaving you trapped in a firm struggling to grow.
When I think about what I enjoy most about my job, I used to enjoy the thrill of speaking with prospective clients, but as my career has progressed, I've found that I now really enjoy seeing members of my team grow and develop. It sounds sort of lame, especially for an interview with ACCA, but I was incredibly proud of getting my ACCA qualification and it was one of the most difficult things I've done. So when my team pass an exam and for those that are now fully qualified, I'm incredibly proud of being part of their journey in achieving that.