Krishna Prasad Dahal
Krishna Prasad Dahal is a partner at Focus Somar Audit & Tax Accountants Ltd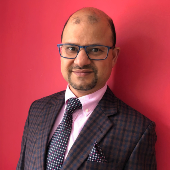 I was born to a lower middle-class family in a suburban area of Kathmandu, Nepal. I started studying English at Grade 4 in a Local Government School and through hard work, became the highest achieving student in my school. After completing a BSc at Tribhuvan University in Kathmandu, I moved to India to progress my accountancy career and become a qualified Chartered Accountant.
I worked for a few years in Nepal after returning from India but due to the on-going conflict there, I moved to the UK where I started studying the ACCA qualification with a London-based accountancy firm as an audit trainee, became a member in 2008, and obtained my auditing certificate a few years later.
"Coming to a new country as an ACCA trainee was exciting, but was not without difficulties. "
As the UK environment was very different from my home country with regard to culture, lifestyle and affordability, it was hard to adjust. There was a language barrier that led to a communications gap and I also didn't have the emotional support of my family around me in the UK. There were times when I felt hopeless, but hard work and my cheerful disposition helped me overcome the obstacles and I am proud of what I have achieved.
I have more than 20 years of experience in providing audit, advisory, tax and accountancy services, and have worked with clients in many sectors including healthcare, telecommunications, manufacturing, oil exploration, travel, financial, trading, technology sectors and many more – both in the UK and globally. Since 2013, I have been running the audit practice within a firm that offers accountancy, audit and tax services.
Over the years emerging technologies have brought change in almost every sector. Legislative changes and the catalytic effects of Covid-19 have challenged every sector including the auditing profession. Globally the role of the auditor has fallen under tighter scrutiny with regards to issues concerning auditor independence, and the scope and quality of today's audits. The financial reporting environment has also changed significantly.
Technology has enabled auditors to work more digitally and provide better insight to clients. With different apps available for auditing, it has become more effective and efficient to carry out the audit work.
"The growing need for specialisation in the auditing profession will play an important role going forward."
Digitalising the practice has enabled us to progress and develop skills at a faster pace. We are able to work with a wider range of clients from various sectors - from micro entities to large companies - handling the jobs, meeting with appropriate deadline, and managing our resources whilst upholding our professional ethics core principle. There is always something new to understand and find a solution - be it changes in financial reporting, taxation or audit, or day to day practice management. Above all, there are always challenges and opportunities regarding exposure and specialisms in each audit to get a deeper understanding of an entity's environment and possible areas of audit risk.
A major challenge we face is recruiting and retaining skilled employees. Finding employees who are technically strong and good with technology is the other major challenge. Ensuring that they have regular training to keep up to date on changes in legislation and cloud-based accounting software when time is scarce and the workforce dispersed is the next challenge, but leads to greater efficiencies in the practice. Managing well-being is also a major challenge but I enjoy working in our multicultural digitalised practice.
I am actively involved in ACCA's regional network, and I enjoy mentoring and supporting accounting students, affiliates, and members. I also work as an advocate for the impoverished and disadvantaged people in Nepalese villages - I am involved in charity and support for affordability in education, health and other basic needs.