Linda Frier
Linda Frier is the owner of Coalesco Accountants Limited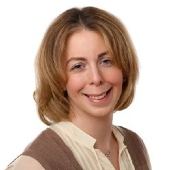 I went straight into Grant Thornton as an auditor with my A level results and was able to do my ACCA qualification straight away rather than do AAT first. I had great training and study support at Grant Thornton and was qualified at the age of 20 and an ACCA member at 21.
I always knew that I wanted to be an accountant and to run my own practice, but I felt I needed some commercial experience to do that, so I left Grant Thornton and took on several roles in industry. Many were great but one of those roles was the worst role I've ever had, but it was a real learning experience because I learnt all the things I didn't want to do in a role, and it taught me how not to treat other people when you do have your own business.
My personal life sadly changed significantly in 2007 when I lost my partner to complications following a bone marrow transplant. It created a massive focus in my life – I took that grief and I rolled it all up and made sure I did what I'd always told Jon I was going to do. I worked my notice and then bought a retiring sole practitioner's rolling fee base – that's how I got my initial bank of fees. It was a well-established practice and gave me the income I needed to support myself.
In April 2008, Coalesco was formed and it has been, and continues to be, an amazing journey. I've built my team and my client base and the absolute fundamental thing to me in everything that we do is that we get the job done, we do what we say we're going to do, and we do it with a smile on our faces. The majority of our clients are 2-3 people businesses and we are very much there for the small business – those are the people that don't sleep at night and we can make an impact on their business and add a lot of value. We get our reward and our feel-good factor by working with clients where we can make the difference.
I'm a firm believer that you can train expertise and I've always built my own team wherever I've worked on that basis – that you can train expertise but finding the right personality and making sure that person buys into Coalesco is what's really important. My selections have always been really carefully chosen and that has sometimes meant that we've had a lag when we have had to recruit because you have to find the right personality – the person that's willing to talk to the client, that's willing to come to a webinar or seminar and talk openly and be honest. Many people can quote the legislation, but we need to be able to apply it to people's businesses.
We're exceptionally careful in choosing our clients too. We try not to work with anybody that we don't like so we have an initial consultation with everybody who expresses an interest in working with us, but they have to be that small business that wants to work with an accountant. Those clients are key to our growth, but you also have to like the people. We've all worked in that role where we went to work and we dreaded a meeting or dreaded the person that we have to sit next to. I never wanted to have to say to someone in my team, can you meet with this person who is known to be difficult - because it affects their whole day and everything that they do, and then they don't deliver what they should to other clients.
Coalesco is a community. We do a monthly newsletter to clients which turned into monthly meetings to bring clients together face to face in order to network and hear about things that affect them – most recently we did one about electric cars. We have a directory on our website where clients can register their business - so if one of them is looking for a service provider then they can log on to our directory and find one. We promote the directory in each monthly newsletter and make sure that clients can find one another in the Coalesco community.
It also helps with client retention which is the easiest way to keep your practice income alive. It may not be hard to recruit clients, but it's an expensive time-consuming process so you want to keep those recurring fees. The more hooks you have because they feel a part of something, then the less reason there is for them to leave Coalesco if they feel that they are getting added value by being able to network with fellow clients and pick up work that way, get educational support, and have access to most of the services you could need in the directory. We're trying to provide an environment that is all-compassing for them to be part of, as opposed to just feeling that they have an accountant.
I'm very driven and like to push myself so I'm currently training for the National Fitness Games with one of my community group training friends from my gym. Going to the gym and training is a big part of my life. Everything we have done as practitioners over the past 10 years has been exceptionally stressful. Pre-Covid we had RTI and MTD for VAT, and we know we're going to MTD ITSA. It's an ever-changing ever-difficult environment that we work in. The gym is the place I go to – that means my phone goes into the locker and it's my time and my space and positive hormones go around your body and when you come out, it's amazing how there's a solution there to today's problem or whatever it happens to be, by having that focus. We all need to be able to get away from work.