Michelle Westbury
Michelle Westbury is the founder of West & Berry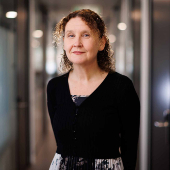 Like many New Zealanders, Michelle Westbury FCCA flew to the UK at age 19 for a working holiday. 'It's just a normal rite of passage for us Kiwis to travel – usually by coming to the UK and working in bars and pubs to fund our adventures when we're young,' she says. Westbury worked a series of jobs, including in a sealife centre and a travel agency – a far cry from becoming partner in a UK accountancy firm – before leaving to set up her own Brighton-based firm, West & Berry.
Nowadays, Michelle has 'a passion for supporting women in accountancy and in business' and, in July 2019, set up West & Berry. 'I hope to be one of the many women who lead in an authentic way and with empathy at the core of what I do', she says.
"We can offer an all-female audit team, which means we can work with some amazing domestic abuse charities"
West & Berry specialises in the charity and not-for-profit sector, which is a strong point of differentiation from other firms. 'It's been a real success factor for the business,' Michelle says. 'Everyone knows we're the firm to go for those services.' It also fits in with her own interests; she is a trustee of two local charities which, she says, 'is a privilege and a joy'.
Of the eight people currently working at West & Berry, six are women – and the firm is taking on its ninth staff member in April. More than 50% of the firm's clients are women-led businesses or charities and the firm's female focus has given West & Berry an advantage when pitching for audits of women-only spaces. 'Having the capacity to provide a 100% female audit team has, for example, given us the opportunity to work with some amazing domestic abuse charities', Michelle says.
West & Berry was set up so that staff could work flexibly, with a 'work anywhere, anytime' policy. Michelle believes that to support women in the workplace, men should also be encouraged to work in a flexible way.
Being an older entrepreneur meant she had more confidence to start her own business, especially with her years-long relationships with local businesses and networks.
"Having a supportive team, and the ability to work from home, has helped me navigate the menopause"
'Another advantage of starting later in life is you already know how to do most things – from actually running a business, to recruitment, compliance, systems and controls, and training,' she says. 'Anything you are not sure of you can outsource. In my case, that's IT security.'
'I started the firm in my forties, so one challenge that I didn't consider was the menopause,' she adds. 'I'm fortunate my symptoms are very mild, but it's still a challenge. Having a supportive team, and the ability to work from home as well as the office, has helped me navigate the menopause so far.'
With the firm growing more quickly than Michelle expected, the current challenge is the timing around the hiring of new staff.
'You have to judge when to hire when you're on a growth path, with new clients coming in all the time. ACCA has been very helpful, especially when we took on our first trainee last year, offering guidance in navigating the apprenticeship scheme,' she says. 'And apart from the obvious hard work involved, having modern systems, fantastic staff and a strong and supportive local business network has enabled our firm to grow.'