Rosie Bennett
Rosie Bennett is a manager at agricultural specialists Evolution ABS Limited and Chairman of the National Federation of Young Farmers' Clubs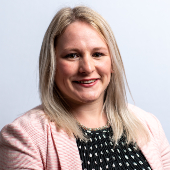 When I was at school my primary interests were farming and I enjoyed maths and business, something I learnt from my entrepreneurial family. When it came to looking at my career, I researched professions that were involved in those sectors such as farm management, accountancy and agronomy. After completing various work experience, it was apparent, I absolutely loved the accountancy role. I was offered a trainee position at Evolution ABS following my work experience and here I have remained. After my A levels, I studied AAT and progressed to completing my ACCA. It has been an enjoyable journey and I've now been at Evolution ABS for 10 years.
Evolution ABS are agricultural specialists. Most of our clients are farmers and landowners which can vary from sole traders to large corporate businesses and many include diversified businesses which revolve around land and tourism.
Working with agricultural can be very personal. They are very focussed around family and the business is very personal so there can be a lot of emotions involved. Family farms are often passed down through the generations, so a large proportion of our work involves succession planning, inheritance tax planning which ensures that it passes on to the next generation tax efficiently.
Another key discussion point for the clients is cash flow. In certain farming sectors often there isn't a regular income and the sales pattern can be sporadic which means cash can become a limiting factor. The agricultural industry is also very volatile so some businesses can have an absolutely fantastic year and then the farmgate prices completely drop, and they might be loss-making the following year, so we do a lot of farmers averaging for income tax purposes.
"Brexit has shaken up the farming industry more than many were expecting. "
The markets for the food we produce in the UK are uncertain, and there is a labour shortage as a result of the loss of European labour - we no longer have the same levels of casual labour we need to support the seasonal vegetable and fruit growers.
After labour, food markets are the biggest issue facing the sector. The UK isn't self-sufficient and the trade deals that are being made – for example, with Australia – do not bode well for our country, there is a risk of lower quality/welfare foods produced for less being imported into the UK. Of course I understand that cost is important to UK consumers but it has an impact on our farmers because we are not competing on a level playing field, and consumers end up with a lower quality product. Cost is the biggest driver and at the end of the day, we produce food at quite high cost but at a higher quality and welfare standard than most imports in the UK. Coupled with the unfair playing field, supermarkets have the monopoly power and don't always pay a fair price which can create market problems e.g. the free range egg sector.
"I love working with people and empathise with the roller coaster of emotions whilst facilitating farming families through difficult times"
I really enjoy a challenge. I love working with people and empathise with the roller coaster of emotions whilst facilitating farming families through difficult times. I find that really rewarding and really satisfying when clients become more successful as a result of my advice.
Within Evolution, the team have a passion and an interest of all things rural with most of the Evolution ABS community coming from farming families. However, those that do not have such a rural bias facilitate and spark healthy debate, to keep us balanced. We're almost completely paperless - the biggest barrier would be some of our clients live in very remote areas where internet connectivity is an issue.
I'm very much farming stock as we say. My family farm is organic and consists of 500 Fleckvieh cows, and we sell eggs from our 6,000 free range organic laying hens. In my spare time I am heavily involved with the Young Farmers Organisation and am their National Chairman – something I've worked towards for the last 10 years. It's been a big commitment in my personal career, but the Evolution ABS community has been very supportive to help me achieve my goal.
In that role, I'm essentially the figurehead which brings the membership together from 47 counties across England and Wales. I chair the council meetings where we discuss everything from agricultural legislation, to competitions, and events which bring the members together. We are impartial in terms of politics as ultimately, we want the support of the Government in No10 at the time, but we're always part of consultations with Defra, the NFU and CLA. We also run campaigns for mental health, farm safety and road safety – it is a really varied role that has taught me a lot in terms of leadership, which has ultimately helped me in my career.
In summary I can be described as very driven, I love a challenge, and I always strive to do better.