Joe Fitzsimons,
Senior Policy Manager – EEMA and UK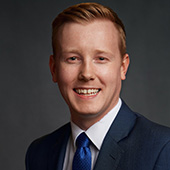 Joe manages ACCA policy work across Europe, Eurasia, the Americas, Middle East and the UK.
He was formerly a member of the policy team at the Institute of Directors, where he led across a range of policy areas, including education and skills, EDI, and SME support. He has been cited across various media outlets including the BBC, Sky News and Reuters.
Joe is passionate about skills policy and supporting organisations of all sizes as they look to address skills needs and build a talent pipeline for the future. He also seeks to promote a skills system that improves social mobility to create a more equitable future for all.
Joe holds a Bachelor's degree in Business Studies from London South Bank University and an Executive MBA from Nottingham Trent University.