Planes, trains and automobiles…
Ex-cop transports his peace-keeping skills to Council
"Board meetings can have their challenges, but it's unlikely you're going to come across somebody waving a bottle in your face"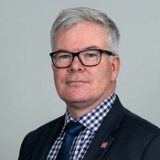 When you have spent your Friday night policing Chelmsford town centre in Essex at closing time, Monday morning in the boardroom holds few terrors.
That was the perspective Matt Dolphin gained from the time he served as a volunteer special constable while also working in high-powered finance roles.
'I was one of eight coppers policing maybe 12,000 potentially rowdy and sometimes troublesome drinkers, and there were a few hairy moments,' Matt recalls.
'Board meetings can have their challenges, but it's unlikely you are ever going to come across somebody waving a bottle in your face. Not in any of the organisations where I have worked, certainly!'
Matt's eight-year stint as a 'special' also allowed him to pursue his professional passion - transport. For a while he served as a traffic officer, doing his bit to keep the roads of Essex and later Dorset safe for society.
'It's an honour to be asked.'
Since he joined the accountancy profession, all of Matt's roles have featured wheels, wings or rolling stock. After working in the bus business in his native Essex his career took off at British Airways. Matt's latest assignment is Finance Director at the Greater Anglia railway business.
After ending his service with the police Matt wanted to get more involved as an advocate for accountancy and for ACCA, which is why he volunteered to stand for Council, and to represent the association as a speaker on panels and events across Canada, London and Cyprus.
'For 20 years I was like many other ACCA members – I was proud to be a member, but I hadn't realised just how much more it could offer. While I am on Council I want to be a voice for much greater involvement and participation.
'We have 219,00 members and 500,00 future members all around the world, and the resources of skills and experience they represent are endless. I'd love more members to come forward and to do more. I'd also love ACCA to reach out and really tap those resources more than we have ever done before. In my experience people love to be asked to share their knowledge and their time. I know I do. It's a privilege and an honour to be asked.'
'That, for me, is the joy of finance'
When Matt is invited to speak in public about accountancy, his message is all about the flexibility, versatility and the breadth of the profession.
'I always say that a qualification in accountancy is the perfect foundation for any career in business, in any sector, because it equips you with the guidelines on which any organisation should be run,' he said.
'It gives you the confidence and the training to take your skills into any business and make a really important contribution, because the expertise of the professional accountant is vital and irreplaceable. That, for me, is the joy of finance.
'My qualification took me into transport, and I have loved it, but I got into it by accident. I could have gone into another industry and been just as productive, and I think that broad spectrum of an accountant's abilities is borne out by the spread of talents we see right across ACCA.
'Our people are working in every sector in nearly every country in the world, and there are not many professions or professional bodies which could say that. It's something for us all to cherish and to shout about every chance we get.'