Nick Nicolaou
Nick Nicolaou is the director of NVN Consultancy Limited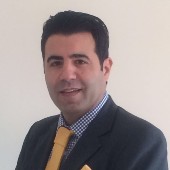 How did you come to be in Internal Audit?
After doing a degree in Accounting & Finance, I joined Moore Stephens' External Audit department, on a training contract. The training was fantastic and the interaction with an eclectic mix of clients, in auditing their statutory financial statements, was very rewarding. I had questioned early on, why clients paid the external audit fee and had no appreciation at that time, of how much independence would shape my future career. Furthermore and given a family business background, I always knew that there was more to large businesses than just their Finance function.
In my final Moore Stephens year, a colleague from another Moore Stephens office had recently joined the Internal Audit team at Tate & Lyle. She spoke so passionately about both the broader/non-financial exposure she was getting and the value she was adding business wide. That resonated with me and I was convinced that that was to be my destiny. I took my first Internal Audit role with Hasbro in the following year and have never looked back.
What do you enjoy about being an internal auditor?
There are many reasons, but can be summarised by the 'access all areas' Internal Audit charter, giving me access to business operations, across departments, areas/functions, call centres, business units, products and countries - over thirty visited and have seen much of the world - whilst concurrently achieving my work objectives.
Internal Audit is one of the few departments with wide exposure and knowledge, thereby affording a good understanding of how all the business pieces fit together.
I've had the great pleasure of training several colleagues within the UK, Europe and the Middle East in Internal Audit best practices, who have gone on to have fantastic careers in their own right.
Utilising my skills and experience, I'm seen as a trusted business adviser. That proportional advice to Boards/Committees has helped make a difference to business performance and I take great pride in the same. Given that I also proportionally risk manage activities in my personal life, I apply the same ethos to my work, making my job both 'relatively' easy and a pleasure to undertake.