Zainab Kazmi
Zainab Kazmi is an internal auditor at ACCA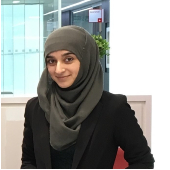 How did you come to be in Internal Audit?
One of my university lecturers explained how interesting internal audit was, and that it was a fantastic way to truly understand an organisation and its various components. That was it. I knew I had to start my career in Internal Audit so once I graduated, I trained as an Internal Auditor at Deloitte and have been working in Internal Audit since.
What do you enjoy about the role or what do you enjoy about being an internal auditor?
I'm a curious person and I love learning about other departments and people within the organisation. Internal Audit allows me to ask lots of questions without being classed as 'nosey!' Each audit is different, which encourages constant learning and I enjoy adding value and strengthening controls through the work I do. Occasionally, I travel to audit offices in other countries, which is always a bonus!