Yen-Pei Chen, Manager - Corporate Reporting and Tax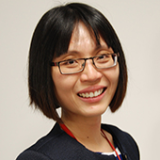 Yen-pei Chen is subject matter expert for tax and corporate reporting within ACCA's Professional Insights team. In this capacity, she convenes ACCA's Global Forums for Tax and Corporate Reporting, and engages with policy-makers at key organisations including the EU Commission and the Organisation for Economic Co-operation (OECD), the UK's Financial Reporting Council and HM Revenue and Customs.
She has a special interest in the linkages between the green transition and tax, as demonstrated in the report, Tax as a Force for Good. She has also delivered a wide-ranging body of research on integrated reporting, including the Insights into Integrated Reporting series, investors' views of integrated reporting, and the materiality determination process. Yen-pei has been invited to speak on the topic of non-financial reporting at a wide range of events, including at the European Parliament, the 2020 OECD Private Finance for Sustainable Development conference, at the IIRC Conventions and at the IR Awards in Colombo, Sri Lanka.