Alastair Barlow
Alastair Barlow is the found and chief dreamer at flinder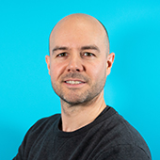 My role at flinder is to lead the brand and strategy. We build and run smart finance functions for fast-growth and complex businesses. We use technology to simplify complex data and deliver insight to enable better business decisions.
We're a relatively fast-growing brand so we're continually bringing on new clients but also exploring how we can continue to expand how we continue to deliver value to our existing clients. As well as strategy and brand, I also lead on growth which means I'm often talking to new prospects.
"I think accountancy is one of the most dynamic, exciting and relevant professions."
It's continually evolving, embraces technology and we have a positive influence on businesses, helping to navigate complex decisions that ultimately drive the economy. It's such an exciting space to be in!
What I enjoy the most about my job is the diversity. I love what we're creating at flinder, how we're helping our clients and how we're developing talented professionals for tomorrow. Overall, I enjoy being in control of my own destiny and creating change, but if I hadn't gone down the accountancy route, I'd probably be an architect. As a child, I would draft elevations and house plans – I loved creating something from just an idea.
If you're on a digital transformation journey, I recommend that you listen, learn and collaborate with others. Understand your own challenges and your clients' challenges. Search for technology that will reduce that friction and don't use technology for the sake of it.
"Don't be afraid to take a risk and pivot quickly if it doesn't work."
One of my proudest achievements is qualifying with ACCA. Others include living and working in a different country, taking the risk to start flinder from a very secure and promising career at PwC, supporting more than 30 people in their careers to become talented professionals, and winning three Accounting Excellence awards in one night – that was pretty special.
If you ever get the opportunity to live in another country or culture, take it. It will diversify your thinking significantly. I spent three years in Amsterdam with PwC. It was an incredible experience and one that's certainly shaped me – both personally and professionally.
Sustainability is so important. For me, at its most basic, sustainability means making a decision, not just for today's benefit, but to balance that with the benefit of tomorrow's stakeholders. If I look at my responsibility for flinder, that's about investing in our business to develop talented professionals, our methodologies to support our clients, challenging them to make future-proofed decisions, developing technology and processes for the future and sharing our philosophies for the wider benefit of the profession.