David Hopper
David Hopper is the Client Service Director at Carpenter Box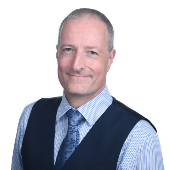 We currently employ circa 200 people – its grown from the 30 or so that there were when I joined! We act for clients in all walks of life – from the smallest sole trading gardener to large corporate groups. We have a specialist team now looking after the "influencer", a sector that didn't exist when I started.
I don't think a "local" market exists anymore. Technology means that clients can be anywhere. I act for some clients based outside of the UK. Clients in many of the newer sectors – like the influencers - aren't local to us, but technology – both in cloud software and communications – enables you to look after anyone, anywhere (up to a point).
"With my practice management hat on, it is clear to me that the bigger the entity, the bigger the challenge. "
When I started, we didn't have a credit control team, a marketing team, or even an HR department. A partner did one of these roles alongside their day-to-day work. As things grow, you need specialists, and we now have people with the correct skills and knowledge doing these things on a day-to-day basis; play to strengths and put the right people in place to help you.
The profession is evolving constantly, with technology and the skills that are needed being different to when I started. I still believe as an accountant, you need that core knowledge, and in some respects, technology is dumbing down that side of things. It's much more "advisory" now and gaining that knowledge can't be from a textbook. You have to gain an understanding from those around you. I am still learning, 25 odd years after passing my exams, and there are still things I need to understand!
You have to be a "people person" to be an accountant. I think clients need to feel comfortable with the person that they deal with, and as in so many walks of life you will buy the "person" providing the service, not just the service you want. First impressions are key, and if you can come across in the right way, that is half the battle. Accountants are a sounding board for clients in some respects, and certainly for the smaller clients, we are their FD.
What I enjoy most about my job is the variety and the people. If you have a good team around you that you can call upon, then that helps, and that is what we have at Carpenter Box. The recent pandemic posed all sorts of issues. We had to change the way we worked, and also advise clients as best we could given what we knew at the time. They faced challenges and uncertainty.
" The pandemic was possibly one of the most stressful periods in recent memory. There was a lot of unknowns in the early stages, and clients needed a trusted adviser for support."
A lot of the clients I look after I have done for many years, so I knew a lot about them, so that helped with the advice I was giving at the time.
Being given the opportunity to manage my own block of fees is my biggest career achievement so far – having that responsibility and looking after those clients. That was a big step from just being a manager of a portfolio. It brings with it new pressures and new challenges, but one that I enjoy.
I've been at Carpenter Box for 30 years now and whilst I have contemplated retirement, I suspect I will continue for another few years, then scale back to a part time role going forward, before finally calling it a day. Some of my clients have been with me for 30 years and there will be a continuity plan for handing them over when the time comes.
I have worked closely with a number of people over the years who have gone on to do a role similar to mine now, and we have people coming through who at some point will need the challenge I had of running a portfolio, so I suspect it will be a gradual handover at the right time, to someone with the drive and determination to follow in my footsteps.