Jake Muir
Jake Muir is a client relationship manager at Critchleys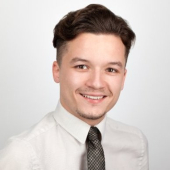 I have been a fully qualified accountant since 2018, and it has been an incredible journey so far. Accountancy had always appealed to me as it was a secure job with a clear career path, and I felt my skills naturally pointed towards a structured profession that let me work with people.
Many people have influenced me but, in particular, my parents have always thought the best in me and have always believed in me, as most parents do. During the more challenging times in my studies, I took great inspiration from my father.
Critchleys was established in 1906 to help businesses, charities and individuals. Today, we have a team of over 100 staff based in the centre of Oxford, and we offer a wide range of financial services. In our 114 year history, COVID-19 has had the most significant widespread impact across all the sectors we represent. As well as our usual jobs and deadlines, it has been an ongoing task to support our clients through the changes COVID has caused. This has included helping with the furlough scheme, applying for additional Government grants and advising our clients on future planning.
"With the growth and development of digital accounting, there is a real challenge to offer added value as an accountant, with a big move towards advisory work."
Sustainability and the environment is now a big talking point with clients. It has encouraged us to move towards being a paperless office, introduce plants into our working area, and think about our overall impact. We work with several environmental charities, and it is great to see the increased engagement they have had recently.
There are always business issues or challenges to overcome. At times I have undertaken certain projects or have been seconded to other departments. I would say honesty is the best policy, and normally there is a wealth of experience around you. I would suggest to anyone that is struggling with something to speak up and request help. The problem is never as impossible as you may think, and having a great team around you really does make things easier.
"Technology is having a big impact on accountancy, with software platforms such as Xero making it easier for people to access accounting tools. As a result, advisory work will play a much more significant role for practitioners in the future. This is a good thing and a real opportunity for us."
This is also great for our clients; with the proper use of the available technology today they can free up some spare time to concentrate on the more important things - their business and family.
The image of accountancy is changing. It has been described to me as grey, dull and repetitive, but this is not the case. It is an interactive role that involves people and problem-solving. With the improvements and changes in technology, it is an exciting time to get involved, but we need to communicate this with new talent.
I think that new talent entering the profession is ready for work, but the best way to learn is through experience. The skills that are important for future accountants are all relationship-focused. They will need to be able to talk to clients, communicate clearly, and build rapport. The added value from these skills help win new business and retain long-term clients.