Jonny Stead
Jonny Stead is a director at Sleigh & Story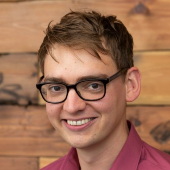 I was strong in maths at school but wanted to be able to apply my strengths to a practical vocation, so I did a finance, accounting and management course at university. My dad was good friends with Peter Sleigh who had set up Sleigh & Story so every summer holiday, I'd work for the practice and learn to do sole trader jobs, tax returns and accounts.
After I graduated, I joined Sleigh & Story and it was then that I realised I could make a real difference to clients in a smaller practice - rather than being a cog in a wheel in a bigger firm and having limited exposure to different areas.
"The learning you get in a smaller practice and the hands-on experience in multiple areas such as payroll, sole traders, company accounts, VAT is invaluable."
Peter pushed me to do the ACCA qualification - from early on he had me in mind to be one of those taking over some day – although at the time, the idea of being a partner was frightening. I did self-study in the evenings to obtain my qualification.
Peter & Debbie wanted me to take over the practice with another ACCA team member – Ifat Jhugroo. In early 2019, they explained that they wanted to be out in two years and that if we weren't interested in taking over the practice then they needed to start looking for an external buyer. I started having serious conversations with Ifat and we felt we could do a great job, so we agreed and took over in December 2020. Peter had already handed over his entire client portfolio to me to focus on other interests, so I already had the client relationships.
We're a general practice but we have associates that can provide specialist advice to our clients on issues such as trusts and R&D tax claims. We remain involved in meetings between our clients and our associates to manage the client relationship and ensure we have a full understanding of our client's position.
I've spent the past year networking with other professionals – there are great opportunities if you connect with your local network and businesses. You never know where an opportunity will arise from a conversation or relationship. I'm always pushing to get involved with new things as they lead to opportunities – like going to the ACCA stand at Accountex North to say hello and then getting invited to join the ACCA table at the Accounting Excellence Awards in London not long after.
It's important for us to give back to the community. I'm on the trustee board for Age UK Bradford & District and chair the finance committee. I'm also on the finance committee with Community Foundation For Calderdale who recently held their annual awards ceremony, for which we were one of the sponsors. Every year we carry out fundraising activities for our local hospice – Overgate.
What I enjoy most about my job is the clients – I have so many clients that I really care about from a personal point of view, and I always look forward to client meetings - we have a complete spectrum of clients that are all fascinating and interesting in their own ways.
When I think about the skills that future accountants need, I think that it's social skills and relationship building. People skills are vital for practice.
"I got into accountancy through being good with numbers, but I got to this stage of my journey by being good with people. "
That's not to say number skills aren't important, and it's not to say folk good with numbers can't be good accountants, but without the people skills it's much harder to create those relationships and hold effective client meetings.
However, I believe you can be a good accountant without necessarily being particularly strong at maths. If you've got the people skills and know the concepts of how to put a set of accounts together, you could still be an effective accountant.
I'm a keen runner, I go skiing several times a year, I follow cricket and I'm a season ticket holder at Huddersfield Town. I like to be busy!