Sach Yadav
Sach Yadav is the founder of Pennyhills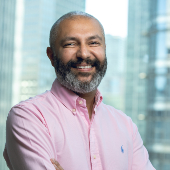 When I was doing my A-levels at school and speaking to careers advisers, I said I really wanted to do accountancy. I was discouraged from doing so because it was - and I quote - "boring". Instead, I tried computer sciences at university. It just wasn't for me. A friend was studying AAT so I started finding out more about studying AAT when I realised that I had the qualifications to study ACCA - so that's what I did at a local college.
I worked for a mid-tier practice and got my practising certificate. I didn't have the capital behind me to set up my own practice at that point, so I went into industry for a time before striking out on my own. It's amazing that the ACCA qualification lets you do all of that – you can work in practices big or small, SMEs, larger firms – everything.
When I started my own practice in 2018, I initially worked out of my home but recently I've moved into shared office space. We grew organically with little marketing, but I wanted to find a niche as all the literature tells you to do. On reflection, we restricted ourselves a bit too much.
I had some dental clients and word of mouth brought more dentists to me. When I put together a marketing campaign, it fell at the first hurdle.
There were a few long-established accountancy practices entrenched in the deaneries where dentists do their training. It proved too difficult to break into that institutionalised niche. I've now moved away from dentistry, and embraced sustainability as a guiding principle instead.
"Our interest in sustainability was not about trying to do good for the environment – at least not initially. It started as a cost-cutting exercise."
Back in 2018, sustainability was on the agenda but not quite to the same level as it is now. What we did at the time – become paperless, work from home, not see clients face to face, sign documents digitally, work remotely, everything which is popular now – was completely out of necessity. We were working from my living room, so I didn't have room for a scanner or printer, let alone boxes of clients' records.
The technology now is so good it cuts down on admin and we are focussed on efficiency - that was the mindset that led us here. Now we're here, sustainability is just as important.
We're now in shared offices where we share electricity and the internet. We have a data allowance for printing as part of the package but we still don't use it. Our vehicle is a low-emissions one but, as with everything else, it started as a cost-cutting exercise.
Now that we've embraced sustainability, we're looking at all of our processes with that mindset – even meat-free options at the Christmas lunch! We're planning to go down the BCorp route too.
Every business is now facing a fundamental question: what impact are you having on the environment? Consumers are becoming more conscious and more savvy. Increasingly, they will view sustainability as a point of difference for businesses offering similar prices.
We had clients before we ever even thought about our values. Every business needs an accountant right? I never thought about what we stood for and why we were here and who we wanted to serve. Now I think these values will be fundamental to our success.
The associations you have with brands you like are deep-rooted. We want to have that connection with our clients. To achieve that our values have to bleed into everything we do.
Accountability is a tenet of the ACCA, and we truly believe in that. To me, this means we have to operate with integrity and responsibility, and hold ourselves to an exacting standard.
Recently, I was asked how polluting our website was. I had no idea. After entering our website's URL into a carbon checker, I was shocked to see that it was 98% more polluting than all other websites globally.
I've been on a journey since then to make the website less carbon emitting – it has been re-designed with fewer energy-sapping videos, fainter colours, and simpler code to shorten the journey for any process.
Who you host with is important. You want to be as local as possible, and use companies that shun dirty energy sources like fossil fuels. We use Krystal; they're based in Scotland and run on renewable energy. We can now confidently say that our pages are 90% cleaner than other web pages tested on the internet.
As accountants, if we all do a little something, we can be a beacon of light for a lot of businesses. We're uniquely placed to influence habits. Our clients trust us to help them make the right decisions for their companies.
The biggest challenge is interpreting what the UN SDGs mean for businesses – many practice owners don't understand what they mean for their practice and their clients. With automation saving us time with bookkeeping, we can use that time to re-engage with clients the way we used to – and along with everything else we talk to them about, sustainability has to be in there. If we're not talking about it then nobody else is. If we show them that there are cost-savings that come with being sustainable then that will bring the message home more quickly – that it's good for the environment AND it saves them money!
You can check out Pennyhills's new low carbon foot print website