Amos hits his peak after finding fresh inspiration
Anxiety of sudden health scare triggered a new way of life for long-serving CFO
"It gave me a motivation to live a full and meaningful life"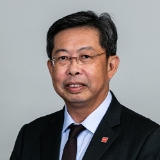 When Amos Ng experienced a health scare in his 40s he knew he needed a fresh perspective in life.
He wasn't looking after himself well enough. He spent all his days sitting in an office, didn't get any exercise, ate poorly. In many ways his brush with mortality was the wake-up call he needed, and Amos answered it willingly and with renewed determination to stay fit and well – for his own sake, and for the sake of his loved ones.
'It gave me a motivation to live a full and meaningful life. I have three grandchildren and of course the ACCA family,' he said.
'In a way my experience in accountancy helped me make a good decision, because much of it has been to do with risk management – and I found that I had to manage the risk in my own life by taking better self-care.
'I'm not a gym rat and I don't like the treadmill, but I discovered the great outdoors and exercising in the fresh air and I really loved it.'
Highest peak
It has led to a new-found passion for mountaineering and long-distance running that changed his life overwhelmingly for the better.
'I have enjoyed it so much,' he said. 'For instance, I climbed Kilimanjaro, the highest peak in Africa with two friends, and that was such a thrill.'
Amos has also scaled Mount Kinabalu, in Sabah, east Malaysia - the highest peak in the country, and an unspoilt natural wonderland abounding in more than 5,000 plant species including gorgeous rare orchids found nowhere else on Earth, and a rich array of wildlife.
It's the kind of experience which lends a fresh perspective on life.
"When I am in, I am all in!"
Amos has also completed a 55km ultra-marathon as well as numerous marathons and half-marathons.
'When I am in, I am all in!' says Amos.
He has also continued to lend his experience and expertise to the local community and the profession, with voluntary organisations such as the Singapore Chinese Cultural Centre, the Singapore Autism Association, and with ACCA. He was re-elected for a second spell on Council in 2022.
'ACCA has been so good to me and it is important to give back,' he said.
'I came to ACCA quite by chance in 1979 when I finished my A Levels and didn't know what to do.
Varied and interesting
'My parents had no background in education and they couldn't advise me, so I went to see a careers counsellor at the British Council. They told me about ACCA, about the opportunities it could offer someone like me, and how it had been going in Singapore since as long ago as 1936. It sounded great and I began studying. I am glad I did.'
It ignited a varied and interesting career which has taken in shipping, international transport logistics, the Singapore Port Authority, roles in China and for the last 23 years with the tourism group Straco, where Amos is CFO.
'The beauty of accountancy and ACCA is that it gives you these skills and knowledge which you can take anywhere, to any industry, and that has been so important in my career.'