A quick word with Carol-Ann
Speedy Boothe has always been a woman in a hurry
"There's nothing better than celebrating together when you achieve something, because it's about teamwork"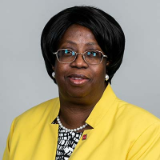 Merlene Ottey was one of the fastest female sprinters of all time. In the 80s and 90s the jet-heeled Jamaican amassed three World Championship golds and nine Olympic medals of various colours in the 100m and 200m. Ottey was seriously swift. Yet she was pedestrian compared to another Jamaican woman who has also made a massive mark in her chosen field.
Carol-Ann Boothe laughs when she recalls the record-breaking exploits of her early days as a young accountant making her way in the profession.
'It's true, my work-mates called me Speedy, because I worked so quick,' said Carol-Ann. 'If they wanted me for something they'd call, "Speedy, come here!"
'My first job out of university was working as the accountant for a bookshop, and I did everything. But even though there was plenty to do I'd finish my week's work by Tuesday and I'd look for other things to do to stay busy.'
Love affair with London
That formative experience convinced Carol-Ann that her ambition needed wider horizons, and that impulse to do more, to learn more, to achieve more, has stayed with her throughout her career. With ACCA, she found the best possible partner to help her on her professional journey.
Carol-Ann recalls: 'Jamaica had quite a small and close-knit finance community, but all the major accountancy firms were represented, and I was lucky to have the opportunity to progress'.
'I have always loved networking, it has always been important to me, and through my network in Jamaica, I met ACCA members at KPMG. Through them I was able to get a start, and I studied ACCA while working.'
It was the beginning of a career that has spanned the globe.
"It feels great to cross that finishing line and know you have won"
Carol-Ann landed a scholarship from KPMG Jamaica to study in England for the final ACCA exams in the early 90s, and returned to work in London in 1995 – the launch of a long love affair with London that continues to this day. At the same time she also stepped up her advocacy work with ACCA, driven by her desire to make a contribution to the profession and by her passion for building networks and communities.
She has brought that same zeal to all of her postings in places as varied as Romania, India, Croatia and in the last few years, Washington DC, especially in her specialist fields of audit and risk management.
'For both those roles you need particular personal qualities just as much, probably more, than the technical skills. If you are going to audit a big organisation off site, you have to get to know your client and their work really quickly. And if you are assessing risk in your own organisation, sometimes you have to tell a senior partner, firmly and tactfully, "No, you can't do that".'
Finishing line
Carol Ann's love of bringing people together explains why the favourite aspect of her work is winning as a team, and that has been a huge part of her professional life. In the last few years she has played a big role in building ACCA in the USA, especially in Washington DC, by organising an array of events including:
A career fairs at KPMG with recruiters from the Big Four, IMF, World Bank and others
A multicultural celebration at the World Bank
Helping US chapter heads organise CPD meetings
A series of visits to ACCA chapters across the US.
'There's nothing better than celebrating together when you achieve something and organised a successful event, because it's about teamwork and member satisfaction. It's about having the wisdom and the experience to know and to accept that no-one is perfect, and you need a whole range of skills and temperaments across a team to do a great job and coordinate an event.
'In my auditing role you can get involved in some jobs in some organisations which are challenging, and you and your team need to stay together to get the job done. It might mean long nights and weekends. But you have done what you set out to achieve, and it's important to celebrate and to mark the occasion together. It feels great to cross that finishing line and know you have won.'
Merlene Ottey would agree.