Finance outshines diamonds for Dinesh
Leaving Gem City behind for a sparkling career in accountancy
"In a city you count life in seconds. Time slows in the mountains. Everything is so pure."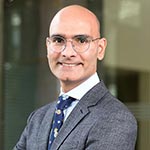 Dinesh Jangid turned his back on a future full of diamonds to become an accountant.
He was born in Rajasthan but was raised and schooled in the western Indian province of Gujarat, and the town of Surat, the world's greatest centre for the cutting and polishing of diamonds.
Yet Dinesh felt the pull of a different destiny to the gem trade.
'I wanted the chance to work in different places,' he said.
'I wanted a global qualification which would open the doors to chances in other countries and I found that ACCA was the best way to do that.'
Loved learning
He moved to London to launch his career in finance and began his studies while working for a small practice.
'I preferred ACCA because of the depth of coverage it offered across business, and also the expertise it brought in specific areas I was interested in, such as tax. I loved the work and I loved learning.'
He stayed in the UK for five years, broadening his experience by teaching ACCA in a college in the capital, before moving back to India to enrich his experience. He worked for Grant Thornton for a year before moving to KPMG.
'The ACCA qualification made it possible for me to choose from a variety of roles and opportunities. It was precisely why I chose it,' he said.
Dinesh also threw himself into voluntary work with ACCA, which has seen him chair the India members' committee, serve on the global Technology Forum and win election to Council.
"Literacy is low and that must change"
He knows how lucky he is to have gained such an extensive education and good chances in life, and a focus on his work with ACCA is all about extending those opportunities to others who are less fortunate.
'Literacy is still low in Rajasthan for instance and that must change,' he said.
'The level of education, especially higher education, is very low for girls in rural areas like my birthplace. They have little chance of a good life when they start out with such disadvantages.
'I try my best to improve education, and to contribute so that all people have a chance to learn and to get on.'
Dinesh relaxes by escaping to the mountains.
Time for yourself
He plans major expeditions every two years, and his latest adventures have included trips to base camps at the fabled Everest and Annapurna.
'It's time for yourself,' he said.
'When you live in a city like Mumbai you count your life in seconds. Time slows in the mountains. Everything is so pure. You come back refreshed, and it's good for your body and mental health.'
For Dinesh, it's a gift more valuable than jewels.