Shining a light on the hidden secret of mental health
Sharon's passion to promote wellbeing
"It's all about grasping a big idea, and finding useful ways of making an impact"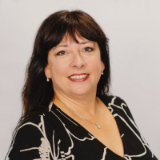 The world has at last woken up to a health crisis that has remained hidden from view for way too long.
Until quite recently, mental ill-health was the only condition where the sufferer had been blamed for their own suffering.
People coping with issues such as depression or anxiety were often accused of weakness. Not surprisingly, many men and women who desperately needed help chose to suffer in silence without seeking treatment.
Thanks to the patient advocacy of those who understood the condition and knew that action was vital to stem the epidemic, mental health is taken far more seriously now. People can admit to themselves and to the world that they need help – and the help they need is more widely available than ever.
Plight of millions
Sharon Critchlow is one of those advocates.
Her involvement began in the 1990s when mental illness was a shameful secret. She suffered for a decade with ME, a pernicious and little-understood syndrome which devastates a person's neurological and immune systems, robbing them of their energy, and triggering chronic fatigue, profound feelings of isolation and often depression.
It gave her a glimpse into the plight of millions, and when she got better, she made it her mission to draw more attention to the wider area of physical and mental wellbeing.
She was invited by a friend to write a chapter about her experiences for a book, and that led to a move from governance towards helping businesses thrive by placing wellbeing at the heart of their culture.
'I come to the issue from a really practical standpoint, because that's what I'm good at,' said Sharon.
'It's all about grasping a big idea, and then finding really useful ways of making a real impact.'
Frank and candid
For Sharon, that means running and speaking at events for companies wanting to create people-friendly working environments, as well as for those who are directly affected by mental health issues. She works as a wellbeing and emotional intelligence evangelist and trainer in her organisation Discover Your Bounce, advising groups including The National Autistic Society and the Creative Youth Network.
It is an intensely personal process for Sharon.
'A year ago a woman who works with us had a message from her partner which simply said: 'Goodbye'. He intended to take his own life. He survived, but it left us all wanting to do more to help. Suicide is the biggest killer of men under 50, and when we found out that two construction workers commit suicide every day, we wanted to do something to help. That is a scandal, and it can be avoided with more care.'
Among the many events Sharon has been involved with was the Bristol Mental Health Hackathon, which brought together speakers, health professionals and members of the public to talk about the issue frankly and candidly. From that came a project to promote mental health awareness in the construction sector called The Social Passion Project.
"The industry was like the Wild West. A lot of firms were chaotic, and even having a file was considered revolutionary"
'Those occasions are so worthwhile,' said Sharon.
'I love doing them, and a lot of the confidence I take into speaking to those audiences comes from my experience with ACCA.
'I left school without many qualifications and worked in public practice. I was encouraged to study with ACCA, and I qualified when I was 23.
'My career progressed to senior leadership and a business in financial services. At that time in the 1990s the industry was like the Wild West. A lot of firms were chaotic, and even having a file was considered revolutionary. But I learned a lot, and it gave me a taste and a respect for the discipline and skill which ACCA brings to our profession. It also gave me the skills to grow two businesses and to stand my ground in difficult times.
'I learned more about that when I moved to Bristol to work. I didn't know anyone, so I began attending ACCA events to build my network. I really enjoyed the involvement, I became chair of the Bristol panel, and that really helped me step out of the shadows and learn how to speak.
'I have gained so much from ACCA, and gaining that personal confidence is a big part of that. I used to shake, petrified, when I had to speak in public. Now I do it for a job. I never expected that to happen, but I'm so glad it did.'