Siobhan is an early adopter in advocacy
Career-long devotion to service begins as a student
"That's the beauty of ACCA – it's for the marathon of life, not the sprint of the moment"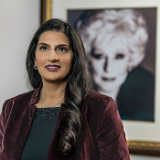 Many ACCA accountants grow into their membership.

When they are still students, or younger professionals inching a tentative foot towards the first rung on the career ladder, they might have other priorities in life.

Serving as an advocate for ACCA or the profession might not be a prime motivation. The appreciation of what ACCA does for their profession, and of what they can do for ACCA, often comes later when their journey in business is well underway.

Not for Siobhan Pandya, a UK-trained Glaswegian who now works for the global skincare and cosmetics brand, Mary Kay, in Texas. She was carrying out voluntary work from her earliest days as a student, and has carried that commitment with her to jobs across two continents and on to ACCA Council.

'I was asked to write an article for a careers guide for those considering a career in finance,' she said.
Global appeal
'It included the different professional qualifications available to support your career in finance, such as ACCA, and I was asked to represent ACCA as someone who had chosen the Qualification in order to have the dream career that she always wanted.
'My article talked about the reason I chose ACCA, from the global appeal of the Qualification to the depth of subjects covered.
'The aim was to provide information on ACCA, as a spokesperson based on my experience and to attract students and future members.'
That early foray into finance journalism opened the door to a wider role with ACCA, and soon she was explaining the merits of the Qualification to thousands of students at careers events.

Same passion
She said: 'I decided to get more involved with ACCA after seeing how supportive they were of me and my journey.
'I was an assistant careers officer in a voluntary role, which entailed going to university fairs throughout the UK and sharing my experience to encourage others to sign up to ACCA.
'ACCA asked me to represent them because I was so passionate and excited about ACCA - they wanted others to hear and feel the same passion.
'I was also able to show how successful you can be with the ACCA Qualification, and that you can do anything you want in life.'
"If you go to Fort Worth you might get guys turning up at meetings in suits and cowboy boots. Not in Dallas"
'I still feel the same way now as I did when I was 25. That's the beauty of ACCA – it's for the marathon of life, not the sprint of the moment.'
Siobhan now flies the flag for ACCA at Mary Kay, where she is director of continuous improvement, based in Dallas. It has been her home since she moved to the US with Shell in 2006.
'Glasgow will always be in my heart,' she said. 'But I love this city.
'It is so much more cosmopolitan than you would know if you had only ever watched Dallas on TV. I am head of the ACCA Dallas chapter, and our meetings are full of European and Asian friends. It's nothing like the image people might have of the place. If you go a few miles away to Fort Worth you might get guys turning up at meetings in suits and cowboy boots. Not so much in Dallas.'
As well as her work with ACCA, Siobhan is devoted to a charity called First Candle. It educates new parents and healthcare providers about infant death syndrome, and offers counselling for bereaved mums and dads.
Worthwhile cause
'Our first child, our son, died, and we didn't know what to do with all those emotions that had been released by that,' said Siobhan.

'First Candle was an outlet for those emotions. It was a way to work through our own grief by helping others who were going through the same feelings of hurt and anger.

'The aim is simple, to reduce infant deaths, and the name - First Candle – comes from the knowledge that if a child reaches their first birthday, they are so much less likely to die in their cots or cribs, or from any of the other causes of infant death.

'It's such a worthwhile cause and a huge part of my life. I look at ACCA, Mary Kay and First Candle all in the same way as I look at my family – they are a part of who I am and why I exist'.