A slight dip in global economic confidence in the second quarter of 2017, but overall it's still a positive picture.
Global economic confidence dipped slightly in the second quarter with the number of respondents expecting conditions to worsen exceeding those expecting conditions to improve by 10 percentage points. This is however the second-highest confidence index in two years and better than the average since the survey began.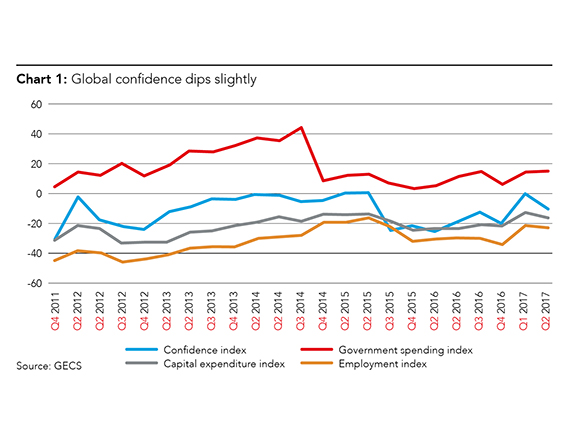 Confidence is higher in non-OECD economies than in OECD economies for only the second time since 2011. Although developed economies have continued to grow at a decent pace, emerging economies have reported much bigger improvements.
The BRIC economies of Brazil, Russia, India and China are all now growing simultaneously for the first time in two and a half years.
Western Europe falls back
Having rebounded strongly in the first quarter of the year, confidence in Western Europe has fallen back sharply in Q2. Despite hopes of economic reform after the recent election in France, low unemployment in Germany and an overall increase in government spending, the number of respondents who were negative about the future exceeded those who were more confident.
One possible cause may be that economic confidence in the UK has also fallen in the second quarter and is now at its lowest level since the final quarter of 2011. The snap general election in the UK, has led to heightened uncertainty over not only the outlook for Brexit but also for all government policy more generally.
Asia Pacific at all time high
Economic confidence in Asia Pacific has increased again and is at a new record high. The improvement in confidence is most likely linked to an increase in global export demand. Locations such as Korea, Taiwan and Hong Kong are heavily integrated into global supply chains and have benefited greatly from the pick-up in global trade growth since late 2016.
"The outlook for the global economy is promising, with all of the main economies set for decent growth over the next few years."
Accountants' key role in economic development
Global economic conditions continue to dominate business and political life.

Research for the Q2 2017 GECS took place between 2nd June and 20th June 2017.

ACCA and IMA members around the world responded including more than 150 CFOs.

The Global Economic Conditions Survey (GECS) is the largest regular economic survey of accountants around the world, in terms of both the number of respondents and the range of economic variables it monitors.