Pooja Chaudhary,
Senior Policy Manager – India and Africa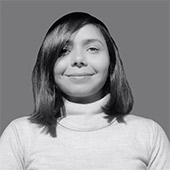 Pooja leads ACCA's policy and insights work in India and contributes to ACCA's global thought leadership. She works with regional and country stakeholders to identify and drive evidence-based policy and thinking.
Prior to joining ACCA, Pooja worked at Economist Impact (the research and advisory arm of the Economist newspaper) as the policy & insights lead for India and the international development lead for Asia-Pacific (with a specialisation in education and labour markets). Pooja has also worked with the Bharti group leading the strategy for their education and skills vertical and with PwC's social sector advisory practice managing international development projects funded by governments and multilateral organizations. With over 12 years of experience in policy research, strategy and consulting, Pooja has led both internal and public research programs to inform internal strategy and external engagement for governments, international institutions, corporations, foundations, and NGOs in Asia-Pacific. Pooja is a regular speaker at workshops, roundtables and panel discussions across different thematic areas.
Pooja holds a master's degree in business management from Xavier Institute of Management, a bachelor's degree in economics from Ramjas college, Delhi University as well as a certification in public policy analysis from the London School of Economics.