In the first of two articles on organisation and people (O&P) strategy, Dr Tony Grundy looks at what it really means in practice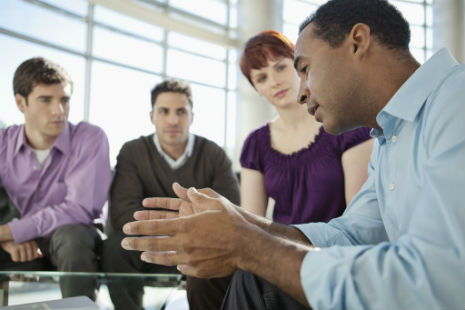 Organisation and people (O&P) is a very important part of the theory of competitive advantage, which emphasises the importance of having distinctive internal resources and capabilities that then lead to superior economic performance.
If, for example, you wanted to compare two different supermarkets - Sainsbury's and Tesco, say - they would be similar in many ways. Both businesses can buy supermarket sites, products, systems and services from the market, so their resource base should not be so very different, should it? Apart from brands, there is little to differentiate the two in the long run - except, of course, another key intangible: O&P.
O&P strategy is the flip side of the externally facing competitive strategy. It not only enables the latter to be implemented but also has a role to play in identifying and facilitating new external strategies. It does this by prompting the following question: given what we are (or what we could be) really good at, are there opportunities that we could excel at?
"given what we are (or what we could be) really good at, are there opportunities that we could excel at?"
Definition and role
In my 2003 book with Laura Brown, Value-based Human Resource Strategy, I define O&P strategy as the plans, programmes and intentions of developing an organisation to meet its present and future competitive challenges in order to generate superior economic value.
This is a lot more than HR strategy, which tends to be purely focused on supplying the right number and levels of skills operationally to the organisation within the existing organisational structure and style.
O&P deals with the relative level of organisational competences vis-à-vis market and competitive demands, present and future, too. It should be owned not just by the HR director, but also by the CEO - in just the same way as the latter should own the competitive strategy.
It should also be closely tied to and targeted at superior economic performance and contain a 'stretch' element, and not just be performance maintenance. That makes it very much the proactive FD's concern and interest.
Coming back to Tesco, O&P strategy, alongside brand strategy, led to the success of its growth strategy in the UK between 1997 and 2007. From around 1994 to 1995, Tesco cleared out its senior management, leaving in place upwardly thrusting, intelligent managers hungry for success, led by Terry Leahy, who became CEO in 1997, aged just 40.
I remember that period well. On one occasion I was working with Paul Mancey, then new head of Tesco Services (such as utilities and mobiles). On beginning one particular project in a new market, he said to me: 'We want to be finished in a week. The goal is to do something that others would spend a few months on - in a week.'
This hunger, focus and drive paid off and such bursts of concentrated thought led to the business models of Tesco Non Food, Tesco Dotcom, Express and Tesco Personal Finance in incredibly short periods of time, as well as its brand and customer service strategy. Where there is not much real differential between the assets that an organisation can buy, then the most important aspect of competitive advantage is speed. This is derived from the O&P strategy.
"Where there is not much real differential between the assets that an organisation can buy, then the most important aspect of competitive advantage is speed."
An example of this was a workshop held in the mid-1990s when a group of young Tesco managers got together to sort out incomplete attempts at building a home shopping model. During the workshop we came up with the sub-brand of Tesco Direct. I saw that brand in store at Bar Hill, Cambridge, just weeks later. That was so impressive: is your own organisation capable of working so fast? Or is it just set up like the others? If so, then it should not be a big surprise if it is fundamentally no better than its competitors.
O&P aims to provide a coherent focus to human resource allocation across the organisation so it then behaves in an outstanding way - easily capturing and keeping customers, making astute decisions at every level, and creating a true team across the organisation. It will be seamlessly woven in with the brand strategy. Operationally and strategically it will be seen in all interactions within the organisation and by customers and suppliers.
Metrobank
Take the case of Metrobank, a customer-loving new bank with 'stores', not branches, and 'no stupid bank rules'. The brand is customer-friendly, so what about the staff?
I visited the Bromley store to register for internet banking. I had to set up the passwords and the numerical passcodes. Now, I am an accountant and have an MBA, so you would have thought that getting it right would have been a doddle for me. Wrong.
It turned out to be quite tricky, though with the help of staff member Samuel Adetula, I finally completed the process. Not once did Adetula show tiredness, frustration or impatience: he smiled no matter what.
I did make a payment the next week and thought I had it cracked. Then another week later I tried at home and it wouldn't work. So back I went to Bromley and Adetula - an unlucky day for him - got me again. But I never saw his face drop or his eyes roll; he just kept on smiling. Please, please, Metrobank, hang on to that service culture!
In a nutshell
Using the example of Metrobank - based purely on what is available from the public domain, from interactions with staff and from what can be deduced, this successful and fresh organisational model can be attributed to:
recruitment of young, fresh, eager and intelligent staff with some job experience in non-banking
a desire to establish a level of personal relationship in every customer interaction.
an investment in 'meeting and greeting' customers, making them feel looked after - it costs money but is ultimately cheaper than losing customers
effective manpower planning so that staff seen 'in store' now may be groomed for managerial positions later
mindfulness of the longer-term competitive benefits of this strategy. At my previous bank, cost seemed its main interest. As one of its senior managers admitted to me: 'If you want real flexibility then we can't do that: we are just too big. If you want flexibility, you would definitely be better off with Metrobank.'
Therefore, O&P strategy can be defined as:
building distinctive capabilities for the present and future
delivering these to exactly the right places at the right times to support growth
ensuring that the organisation develops and changes to deliver the competitive strategy and accomplishes this at speed, outpacing competitors
behaving in such a novel way that customers feel they are being treated as if they truly mattered, rather than being a bit of a pain.
Dr Tony Grundy is an independent consultant and trainer, and lectures at Henley Business School
Studying this technical article and answering the related questions can count towards your verifiable CPD if you are following the unit route to CPD and the content is relevant to your learning and development needs. One hour of learning equates to one unit of CPD. We'd suggest that you use this as a guide when allocating yourself CPD units.
First published in the June 2014 UK edition of Accounting and Business magazine.