In its drive to help transform the city-state into a leading global accountancy hub, Singapore's government has turned its focus to SMPs. But is it enough?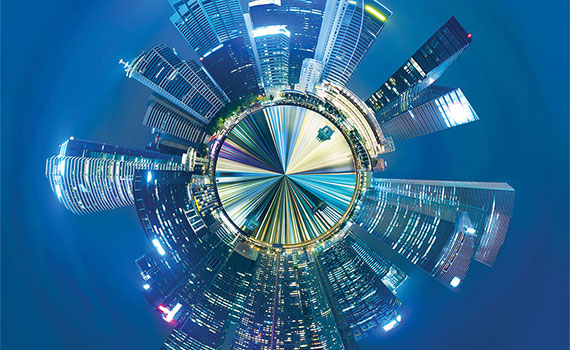 Studying this technical article and answering the related questions can count towards your verifiable CPD if you are following the unit route to CPD and the content is relevant to your learning and development needs. One hour of learning equates to one unit of CPD. We'd suggest that you use this as a guide when allocating yourself CPD units.
This article was first published in the September 2018 Singapore edition of Accounting and Business magazine.
The June launch of the Singapore Accountancy Commission's (SAC) Digital Transformation for Accountancy programme marked the latest stage in the city-state's drive towards becoming a leading global accountancy hub. The S$2.4m initiative will provide funds of up to S$30,000 to help small and medium practices (SMPs) implement technology solutions for practice management systems, tax and internal auditing.
'Besides improving productivity, the programme will enable smaller accounting entities to allocate valuable resources to higher-value work, and thereby increase profitability,' Indranee Rajah, Second Minister For Law, Finance and Education, told the Institute of Singapore Chartered Accountants' Practitioners Conference while unveiling the new initiative.
The government's roadmap for Singapore's accountancy sector is targeting annual growth of 5.6% to reach S$2.03bn in nominal value-add by 2020. The profession therefore needs to harness the opportunities offered by digital technologies.
'As new technologies such as artificial intelligence, robotics, blockchain, advanced analytics and "smart everything" emerge, accounting professionals need to develop skillsets in these areas to help them better understand the business and leverage the insights these technologies bring,' says Max Loh, EY's ASEAN and Singapore managing partner. 'To remain relevant, professional accountants must be able to meet current needs and anticipate emerging demands.'
Clients are also expecting their advisers to have more than just technical knowledge, Loh adds. 'They want them to leverage on their familiarity with the organisation and industry through their work to provide advice on how to improve the business and help them navigate growth.
Shariq Barmaky, regional managing partner, assurance and advisory, at Deloitte Southeast Asia, says that while Singapore has done well to achieve its current status as a financial hub, leveraging on its strategic location, strong rule of law and highly skilled workforce to stay ahead, finance professionals need to keep up with emerging and new technologies.
'For the accountancy sector to have a successful transformation journey to become a leading global accountancy hub over the next five to 10 years, the workforce must upskill, businesses need to innovate and embrace technology, and strong government support is crucial,' Barmaky says, adding that Deloitte is investing heavily in audit technology to support its clients and equip its professionals.
The Digital Transformation for Accountancy programme is one of many initiatives that SAC is looking into to help transform the sector to become a centre for high-value-adding professional accounting services to support Singapore's development into a leading global hub, says Evan Law, SAC chief executive.
Incentives required
The SAC now wants to focus on helping local accountancy firms make inroads into overseas markets to capture demand in high-growth practice areas, while also encouraging international accounting technology players to set up regional R&D centres in Singapore and developing the city-state into a thought-leadership hub for the profession.
Alex Koh, a partner at KPMG in Singapore, welcomes the move, noting that accountancy firms have already invested significantly by establishing centres of excellence in Singapore that focus on greater use of data analytics. He points out, however, that 'more incentives could be put in place to attract international accounting firms to set up more advanced research centres and technology labs in Singapore, as well as motivate commercial organisations to deploy automation and digital transformation, and support the advanced learning and development programme to help accounting professionals to upskill themselves.'
Barmaky is looking to the authorities for help. 'We hope that the government can help to encourage and support research efforts on emerging and topical issues by academics and practitioners,' he says.
Koh adds that he would like to see a more 'structured programme to encourage local businesses to support accountants in the commercial sectors to continue their professional learning and keep up to date with latest developments'. He points out that 'commercial organisations are generally less prepared to upskill or increase resources within the accounting function because of cost considerations'.
For Singapore to do well as a market leader in high-value specialist services, Barmaky notes, 'we need to look at capturing international demand in high-growth areas and promote Singapore as a leading exchange for accountancy and thought-leadership. The government can help to increase its efforts on trade missions and provide more business and networking platforms for accounting entities to make inroads into overseas markets.'
Beyond financial support to help firms adopt digital technologies and upskill their staff, Koh points out that attention should also be given to support at university level. He notes the importance of encouraging undergraduates to consider accountancy as a rewarding career choice and to pursue a relevant degree. This, in turn, will ensure a pipeline of young professionals entering the accountancy profession in Singapore.
Koh says that changes may need to be made to course curriculums at university level to incorporate the impact and opportunities offered by the latest digital developments and help undergraduates acquire the necessary knowledge and experience to better prepare them for the modern accountancy world.
Sonia Kolesnikov-Jessop, journalist
"'The workforce must upskill, businesses need to innovate and embrace technology, and strong government support is crucial'"