Data analytics has a vital and transformational role to play in improving the quality of public sector decision-making and strengthening political accountability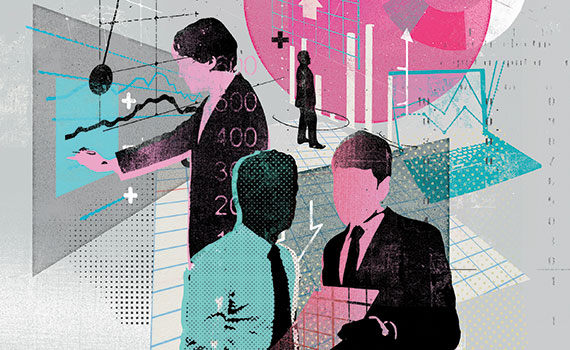 Studying this technical article and answering the related questions can count towards your verifiable CPD if you are following the unit route to CPD and the content is relevant to your learning and development needs. One hour of learning equates to one unit of CPD. We'd suggest that you use this as a guide when allocating yourself CPD units.
This article was first published in the July/August 2017 UK edition of Accounting and Business magazine.
Data analytics' role in reforming the public sector will be at least as large as in the private sector, where it promises to revolutionise management and marketing. The House of Commons Science and Technology Committee quoted consultants as saying that the NHS alone could achieve annual efficiency savings of between £16bn and £66bn – as well as much better patient care – from the effective use of data analytics. In Australia, one hospital is already using data analytics to predict daily demand for accident and emergency services, with an accuracy rate of as much as 93%.
'The National Health Service is fertile ground for data analytics,' agrees David Downing, central government and healthcare director at data analytics software provider SAS UK. He argues that historically 'healthcare has been an industry that is data rich and insight poor', but this situation is in the process of being corrected. 'Empowering the NHS today to interpret clean, current and accurate data can create a new paradigm where staff are better informed to provide valuable care to patients through an integrated approach – for example, delivering care in the community rather than hospital,' he explains. 'Not only that, but better use of data can provide staff with an opportunity to predict procedures and busy periods ahead of time. Both developments will reduce the relentless strain on the NHS frontline and improve overall efficiency.'
SAS partnered with a large foundation trust that provides specialist heart and lung treatment, which holds vast quantities of clinical data. Yet the trust did little with the data because it was difficult to access and integrate, spread across more than 400 data systems and 20 critical clinical data sets. Together the trust and SAS built a 'clinical data warehouse' as an accessible but privacy-protected central store of the various data. 'Before the solution went live, a cardiologist would have needed the help of several junior doctors to review some 400 case notes on paper,' says Downing. 'Now the hospital can perform this analysis in less than five minutes.'
Far beyond health
But public sector applications of data analytics go far beyond health, potentially affecting almost all areas of activity. The Greater Manchester Waste Disposal Authority has undertaken a research project with Manchester University to determine how data analytics will transform the way waste is collected, while increasing recycling rates. Through the use of sensors fitted to domestic waste bins, refuse lorries can potentially be directed to where waste needs to be collected, while informing managers of what materials that could be recycled are instead heading for landfill. This information could be used to educate (or punish) householders who fail to properly sort waste for recycling.
Experian is well known as a provider of consumer credit records, but it is also one of the world's largest providers of data analytics systems. The two roles are connected, as the company uses data to support public sector bodies with debt collection and fraud prevention. But in a very different application of its systems, a recent exercise in data analysis undertaken by Experian in conjunction with the National Literacy Trust drilled down to identify where the lowest literacy is located. This found that while there is a close correlation between poverty and weak literacy, the underlying factors are more complex. Weak literacy levels are not limited to regions blighted by low incomes, unemployment and social deprivation, the study concluded. Instead, the 50 locations with the lowest levels were all on the edge of urban areas, including six coastal locations.
Jonathan Douglas, director of the National Literacy Trust, responded: 'For 20 years, the government has addressed England's widening literacy gap through national strategies. We now know that a new, targeted approach is needed, as our work with Experian reveals the country's literacy challenge to be intensely local. Strong local leadership and partnerships are vital to tackling this.'
Paddy Nixon, vice-chancellor of Ulster University, has a background as a data analyst. He is excited about the capacity of data analytics to improve the quality of public sector decision-making and the strengthening of political accountability. 'Everybody in a government, health, welfare and schools context wants to make evidence-based policy,' he says. And every politician wants to point to the successes of the policy through data. Data has always been in the background, but there has been a modal shift. Rather than keeping it stored away, it's now in the public domain.
'The other [opportunity] is about public accountability. People are asking of politicians, "Prove to me that what you have said you have done has actually happened". The classic example for me was when US president Barack Obama put in place the response to the financial crisis – he asked the American government to put online a data system that any citizen in the US could dig down into and see where the stimulus money was spent in their area and what the impact of it was. To me that was a tipping point for people having access to data and government accountability.'
Nixon adds: 'I like the phraseology of civic analytics, rather than data analytics, in this context. We [at Ulster University] are having a conversation in Northern Ireland at the moment with the Department for Communities, which wants to look at the multiple indices of poverty and what they really mean. It's not just about living on below the minimum wage; it's about access to welfare support, the performance of kids in school, it's health outcomes, all of which have different data systems, and they need to bring the data together to work out what to target in a given community. To me that is where civic analytics comes in.'
Whatever you call it, data analytics is set to be transformational for government and public services.
Paul Gosling, journalist
"Through the use of sensors fitted to domestic waste bins, lorries can potentially be directed to where waste needs to be collected"