As the world becomes more urbanised, many cities are trying to become smarter and more sustainable. What will the coming changes mean for accountants?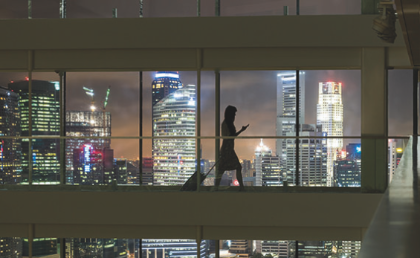 Studying this technical article and answering the related questions can count towards your verifiable CPD if you are following the unit route to CPD and the content is relevant to your learning and development needs. One hour of learning equates to one unit of CPD. We'd suggest that you use this as a guide when allocating yourself CPD units.
This article was first published in the January 2017 international edition of Accounting and Business magazine.
Cities are in a constant state of flux. They always have been; they always will be. Dig beneath the Turkish streets of Istanbul and you will find remnants of Constantinople and Byzantium. Dig beneath the streets of Songdo, South Korea, and you may not find much history (it sits on wetlands reclaimed from the Yellow Sea), but you will find innovations such as the world's most environmentally friendly waste disposal system. Unlike most cities, which started out as small settlements and grew over centuries or even millennia, Songdo is a 'smart city' – said to be the world's first – that is being purpose-built from scratch.
Smart cities are a relatively new idea, but the problems they are trying to solve are not. 'Cities have always needed to meet fluctuating demands for housing, mobility, education, health and food, despite limited resources, ageing infrastructures and social and political changes. Smart cities are an attempt to do this in smarter and more sustainable ways,' says Sajid Khan, ACCA head of international development. By using digital technologies, public-private partnerships, urban planning best practices and policy changes, smart cities are attempting to meet the most pressing needs of communities (today and tomorrow) in ways that improve the greatest number of lives.
None of this can be achieved overnight. The relatively brief history of Songdo International Business District began around 20 years ago when it was conceived as an 'aerotropolis' for a new airport being built 35 miles from Seoul, South Korea's capital. 'The original concept for Songdo was for it to act as a gateway city to the Korean mainland from Incheon International Airport,' says Jonathan Thorpe, chief investment officer at Gale International, the property investment and development company that is leading the US$35bn project to develop Songdo. While the initial idea was to attract foreign companies into the city away from other parts of north-east Asia, Songdo has achieved a great deal more than that.
Smart and sustainable Songdo
Songdo is not yet complete, but it has gained worldwide attention (and awards) for its sustainability and smart city initiatives. It is not hard to see why. Songdo is designed so that all of the built structures and green spaces in its compact six square kilometres are easily accessible. Everything, from recreational areas to residences, can be walked to within 15 minutes, and it has 16 miles of cycle lanes. Songdo's buildings, urban spaces and infrastructure are a living, breathing showcase for sustainable urban development practices and smart technologies that enable objects and software to communicate and autonomously interact and modify their behaviour.
An integrated technology infrastructure connects all Songdo's components, their subsystems and myriad smart sensors. All of the data collected is analysed by a central hub; it's also used to monitor and regulate all manner of things, from energy consumption to traffic. Songdo seems like the internet of things incarnate: streetlights can be automatically switched off in deserted streets and brightened in busy ones; residents can operate their smart home appliances and systems remotely; a smart energy grid minimises wastage by intelligently matching supply and demand so that all parts of the city are supplied with just enough energy.
The application of technology and the data it collects also power lots of other sustainability initiatives. For example, a smart rubbish disposal system sucks household and office waste into an underground network of vacuum tubes to deliver it for processing, while a smart water delivery and recycling system prevents water that is fit for human consumption from being used in showers and toilets. Buildings feature high-performance glass and smart ventilation systems, and many commercial and residential premises are certified – using the LEED standard for green buildings – for their efficient use of water and energy and their low levels of greenhouse gas emissions.
Not quite perfect
Songdo has been described as a hi-tech utopia and the city of the future, but not everybody is impressed. Ecologists, for example, have been critical: some believe that Songdo has destroyed a rich coastal ecosystem, while others are concerned that the city may lack the ecological infrastructure to cope with rising sea levels. Only time will tell whether Songdo – or other purpose-built smart cities such as Masdar in the UAE and Meixi Lake in China – can rise to the challenges of the future, or even become fully functioning cities, as earlier purpose-built capitals such as Abuja in Nigeria and Canberra in Australia have done.
But most of the urban areas now reaching for the smart city label, or aspiring to be smarter or more sustainable, are unable to start from scratch. They have to achieve their various aims by attempting wide-scale retrofits of existing urban spaces or through limited pilots and projects. Retrofits are under way in cities such as Barcelona in Spain and Singapore. Pilots and projects are also in progress across the globe, in communities ranging from the small town of Águas de São Pedro in Brazil to Nairobi, the capital of Kenya and its largest city. Just as no two cities are the same, no two smart cities are taking the same approach.
The annual smart city rankings from Juniper Research shine a spotlight on some of the ways in which such towns and cities are trying to become smarter or more sustainable – with varying degrees of success. Singapore took the top spot in 2016 because of its advanced traffic system, fixed and cellular broadband services, city apps and open data policy.
'Congestion and mobility are almost universal issues for cities to address,' says Juniper's research author Steffen Sorrell.
'When addressed effectively, the impacts are substantial: higher economic productivity, potential for new revenue streams and services, as well as a measurable benefit in reduced healthcare costs.' Top of the 2015 smart city rankings was Barcelona.
Perspectives differ on what makes communities, cities and regions smart or smarter. Juniper uses 40 metrics to evaluate areas for its rankings. They include economy, energy, open data, technology and transport, and cover factors such as the cohesion of city agencies and citizen engagement. Meanwhile the Intelligent Community Forum (ICF), a global network of cities and regions with a thinktank at its centre, focuses on 'the innovative ways in which communities use technology to create inclusive prosperity, tackle social and governance challenges and enrich their quality of life'. ICF's annual list of 'smart communities' rarely includes big-name 'destination' cities.
ICF co-founder John Jung explains why. 'It is the ones that collaborate with national or state governments, fly under the radar, and are "no-name" communities to most of the world that are most innovative,' he says. All communities are trying to stretch their finite resources to meet the basic needs of their citizens and emerging global challenges such as surges in population size and density, ageing infrastructure and climate change. ICF accordingly celebrates cities that are open to proven strategies and to new ideas. Jung says: 'They are places that the rest of the world can learn from and offer hope to people who are fighting hard to launch a new future.'
Because 'smart' is a ubiquitous technology buzzword, it can seem as if smart cities are all about technology, but they aren't. In 2011, when the Dutch city of Eindhoven was named ICF Intelligent Community of the Year, it was because of its achievements in healthcare and community building – technology was merely an enabler. 'We need cities where everybody is connected and where all of the devices can be connected. But the technology must be humanised,' says Rob van Gijzel, mayor of Eindhoven. 'Cities need to transform their outdated systems for mobility, health, housing, food and so on, but the new systems must be inclusive.'
Van Gijzel is not a fan of purpose-built smart cities such as Songdo and Masdar, describing them as places where technology is controlling the people. 'I want to have cities where technology is used to improve the lives of the citizens,' he says, adding that doing this requires more than installing the latest piece of smart kit. Getting technology to work for citizens demands co-creation and collaboration to bring together multiple stakeholders including business, citizens, governments and knowledge institutions in a horizontal, interdisciplinary approach, rather than a vertical, top-down or bottom-up approach, he suggests. 'We have to use "design thinking" to rethink our society,' he says.
Where the accountant comes in
Professional accountants have a key role to play. 'Finance professionals at the city level will be crucial to the successful delivery of all this,' says Narayanan Vaidyanathan, who develops ACCA's research and insights with a focus on the future direction of business and the accountancy profession. Members of the profession will need a broad appreciation of what is driving smart city developments to prioritise and deliver effectively. 'It's not just about technology, it's not just about government sign-offs, and it's not just about working out the numbers,' says Vaidyanathan. 'All of this must combine to optimise resources and provide an interconnected whole-city view.'
Accountants will need a broad view of the factors that can influence any smart city project they are involved in (in the public or private sector). They will need to use their finance knowledge alongside effective business partnering if they are to fully understand the broader policy implications of finance decisions and their impact on the delivery of public services. This will create challenges and opportunities for cities and the profession. ACCA has partnered with the Institute of Cost Accountants in India (ICAI) to explore these in its report Smarter cities, simpler cities.
The ACCA-ICAI report outlines the global case for smart cities and considers the role of finance and accounting professionals within the context of the ambitious Smart Cities Mission, launched by the Indian government in 2015. The aim of the urban renewal programme is to create more than 100 smart cities over the next five years. Some of these may be purpose-built smart cities, but most are expected to be redevelopments or replacements for existing built-up areas. 'The smart city is an idea whose time has come,' says the Indian cabinet minister, Venkaiah Naidu. Where this idea takes us remains to be seen.
Lesley Meall, journalist
"When congestion and mobility are addressed effectively, the economic and financial impacts are substantial"