Accountancy firms' websites need more than an attractive layout if they are to earn their keep. Tim Butler takes a look at some simple steps for improving performance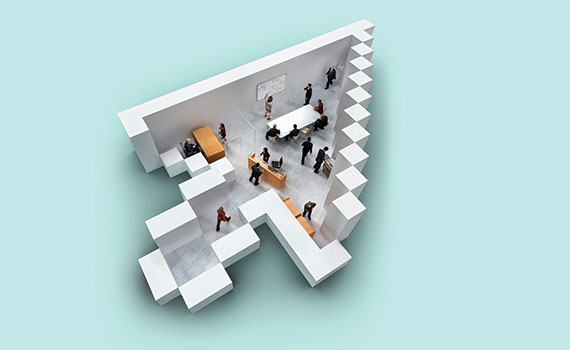 Studying this technical article and answering the related questions can count towards your verifiable CPD if you are following the unit route to CPD and the content is relevant to your learning and development needs. One hour of learning equates to one unit of CPD. We'd suggest that you use this as a guide when allocating yourself CPD units.
This article was first published in the May 2018 Ireland edition of Accounting and Business magazine.
Millions of pounds are spent each year by businesses on websites that don't bring in the business. Why? Because most web designers start with the assumption that making something look better is the answer to selling more. But pretty doesn't always equal effective. Don't worry, though; you can improve your website's performance without having to rebuild it, with these 10 tips.
Ensure it is HTTPS
Since October 2017, Google has been alerting people when a website isn't using HTTPS, which is the encrypted standard for websites. This means that Google could be putting people off visiting your website if it's not compliant. Who wants to work with an accountant if Google says that their website isn't 'safe'? It also has a significant impact on your position in search results.
Know your numbers
You know your clients' numbers but do you know your own website's visitors, contact form completions and bounce rate? Are your numbers accurate through the use of filters to remove spam and irrelevant traffic?
You must ensure that you're tracking goals on your website, including people filling out contact forms and clicking on phone numbers. Without access to the correct information, you won't know how many real potential customers are on your website and how well these are converting. Accurate data means better decision-making about your online marketing.
Make your content current
Does your website have a blog? If so, when did you last update it? Set aside one hour a week to write blogs using questions your clients have asked. Soon you'll have a blog with lots of interesting articles answering common accounting queries.
Help, don't sell
Don't have a website that's a bland brochure rattling off what you do. Create content that helps potential customers. Think about what questions your potential customers might have when considering an accountant. It may seem counterintuitive, but the more you set out to help your visitors in a non-sales way, the more you will sell.
Be fully mobile-friendly
Use Google's mobile website checker to ensure that your website is fully mobile-friendly. This is essential as now more than 50% of all UK website traffic is from mobile devices and, once again, mobile optimisation will affect your Google rankings.
Improve search visibility
There's no point having a great website if it isn't found by people looking for accountancy services. Using search advertising through Google AdWords and Bing is the most effective way to bring people looking for what you do to your website.
Accountancy terms can be expensive so use these tools carefully. Don't use words such 'accountancy' or 'accountant', but instead choose your specialisms such as 'tax accountants' or 'auditing services'. Also, if your practice serves the local area only then don't advertise beyond there. Use the tools available to focus your budget to be more effective so your cost per lead is acceptable.
If you've tried AdWords before and it wasn't profitable, a good agency is a worthwhile investment, as they should achieve lower cost per lead.
Think long term
You should aim to improve your website so it's found naturally on search engines. There are more than 22 million results in google.co.uk for the term 'local accountants' chasing the 390 searches per month that are made in the UK for that term.
Some simple things you can do include:
Make generic titles like 'services' specific – for example, 'accountancy services' – and ensure that you include detailed text.
Ensure your meta titles and descriptions are well written and, again, contain the phrases you want to be found.
Ask your suppliers and customers for links from their websites.
Make sure your Yell, Thomson Local and Google My Business pages all link to your website.
Get found locally
Accountants typically service clients within a certain radius of the office and your digital marketing should reflect this. Google and Bing understand this and if you search for 'local accountants' you'll see some results shown on a map. These local results are taken from Google My Business pages and the Bing equivalent, so you should have these set up and add content to them to help them rank well.
Include calls to action
Always include calls to action and be smart; don't just have a contact form. Create some guides to certain areas and ask people to provide their name and email address to gain access. Then you can follow up on these downloads and ask if users need additional help. Include calls to action in the middle of those blog posts, too.
Keep working
Possibly the most important point of all is the need to keep working on your website. It will never be 'finished'. Use the data you have to see where people are coming from, what pages they are looking at, what forms they are completing and what articles they are reading.
Use this information to guide your actions when it comes to deciding what blogs to write, which calls to action work best and what traffic sources convert into leads. Ensure you're doing this every week. If you can't, engage experts to do it for you.
Tim Butler is founder of Innovation Visual, a digital marketing consultancy: innovationvisual.com
"It may seem counterintuitive, but the more you set out to help your visitors in a non-sales way, the more you will sell"