A new UN convention on mediated settlement agreements gives the global business community options for dispute resolution and has put Singapore on the map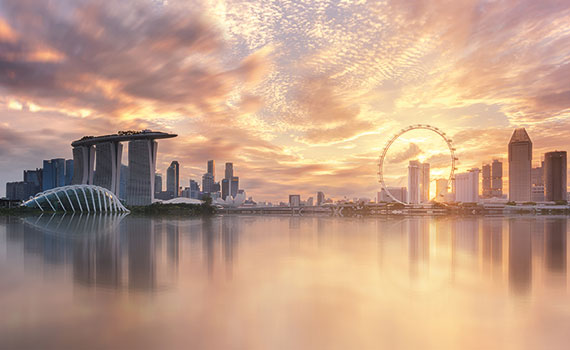 Studying this technical article and answering the related questions can count towards your verifiable CPD if you are following the unit route to CPD and the content is relevant to your learning and development needs. One hour of learning equates to one unit of CPD. We'd suggest that you use this as a guide when allocating yourself CPD units.
This article was first published in the October 2019 China edition of Accounting and Business magazine.
While their lower cost has led to a rise in popularity of mediated settlement agreements as a way to resolve cross-border commercial disputes, the lack of enforceability has hindered their wider use. But this is set to change with the ratification of the new UN Convention on International Settlement Agreements Resulting from Mediation, otherwise known as the Singapore Convention on Mediation.
Forty-six countries initially ratified the agreement in Singapore on 7 August; the treaty will now come into force in February 2020. This will allow parties to seek enforcement of mediated settlement agreements across participating jurisdictions.
Yeoh Lian Chuan, managing director at Singapore law firm Sabara Law, part of the global Deloitte Legal network, says the new convention will, over time, give the international businesses community 'more choices for dispute resolution', although he points out that its impact will depend on how many countries ultimately ratify it.
'What the convention does is improve the enforceability of mediated settlement agreements in the context of international commercial disputes,' notes Yeoh. 'Because mediation is a consensual process, it has the potential to be cheaper, faster and less adversarial.'
The convention will not only raise the profile for meditation within international disputes; it could also potentially help Singapore further establish its credentials as an international resolution centre.
Profile raiser
Ben Giaretta, a partner in the dispute resolution department of British law firm Mishcon de Reya, says that the fact that the convention was signed in Singapore 'won't necessarily promote the city-state itself as a place for dispute resolution'. However, it 'should associate mediation in people's minds with Singapore, just as when one thinks of arbitration and the US, it is usually New York that comes to mind'.
Singapore Minister for Home Affairs and Minister for Law, K Shanmugam, believes the new convention will 'help Singapore position itself as an international dispute resolution hub and an active contributor to the development of legal frameworks of international scale'.
With its stable political climate and robust legal and commercial infrastructure, Singapore has already built a reputation as a neutral international dispute resolution centre that offers a complete suite of services. The Singapore International Arbitration Centre has one of the world's largest administered caseloads and last year was ranked by the Queen Mary University of London and White & Case International Arbitration Survey as the preferred arbitral institution in Asia, and third favourite in the world. The Singapore International Commercial Court (SICC), launched in January 2015, has also seen its case numbers rise from just two in 2015 to 12 new cases in 2018, including one fresh filing.
'The first fresh filing coming after just three years is welcome news because it validates our belief that commercial parties are writing SICC clauses into their contracts,' stated Chief Justice Sundaresh Menon in his year-end remarks, adding that the SICC was steadily gaining recognition as 'a trusted neutral venue' for international commercial dispute resolution in Asia.
Meanwhile, the Singapore International Mediation Centre (SIMC) has been spearheading the Singapore government's plans to become a premier international mediation hub, supported by the passing of the Mediation Act 2017, which provides, among other things, for the recording of SIMC-mediated settlement agreements arising from mediations as orders of court, facilitating enforcement in Singapore.
Trusted framework
'SIMC is a relatively young organisation, having only been launched in November 2014,' says SIMC chairman and international mediator George Lim. 'We have much to do, but in the short space of four years or so, we have seen tremendous interest from international parties in using Singapore as a mediation venue because of our neutrality, location, quality of mediators and mediation services, and trusted legal framework.'
The SICC and SIMC are both benefiting from and building on Singapore's reputation for legal services. According to a recent independent survey conducted by research firm Ipsos, Singapore law is now the second-most adopted governing law in crossborder transactions in Asia after English law, while its status as a dispute resolution hub has also strengthened, with 63% of total participants polled picking the city-state as the preferred venue for dispute resolution, up from 52% in 2015.
'The results highlight the great strides that Singapore law has made in its short history. Our law provides a business-friendly framework and includes an established and well-developed body of commercial law equipped to deal with cross-border transactions. It is well-placed to serve the needs of businesses in Asia,' Justice Vinodh Coomaraswamy, chair of the Promotion of Singapore Law Committee, said in April.
Michael Peer, dispute advisory leader at PwC South East Asia Consulting, notes that 'as entities turn to Singapore for the resolution of disputes, it is becoming increasingly natural for parties to at least consider the possibility of finding an amicable solution. The Singapore Convention will increase the profile of mediation generally as a potential way of finding that amicable solution.'
In the case of commercial disputes, businesses have three legal recourse options: litigation, arbitration and mediation. But Lim notes that when trying to promote mediation to businesses, one of the questions often asked is whether the settlement agreement can be easily enforced globally in the event that the performing party fails to act. 'When the answer given is no, there is often a reluctance to even want to try mediation,' he says.
'I believe that the convention will give confidence to businesses to attempt mediation. In addition to the issue of enforceability, which is important, its value is to bring parties to the mediation table.'
New language
Giaretta believes the Singapore Convention on Mediation will 'change the language of international dispute resolution because it will make enforcement of mediated settlements easier internationally'.
But perhaps more importantly, he notes, 'Mediation will spring to people's minds more readily,' he notes. 'The new convention should be seen as complementary to the New York Convention on arbitration. Businesses can include both in their contracts; indeed, it would be good practice to do so.'
Alternative dispute resolution has historically been synonymous with arbitration, but international arbitration has lost some of its attraction in recent years, Peer notes. 'Awards are taking longer to be delivered and increasing transparency provisions result in publication of details related to disputes, thereby reducing the confidentiality of disputes decided through arbitration and increasing costs, for instance due to challenges to awards through the courts regarding allegations as to the impartiality of arbitrators writing the awards.' And so, he argues, 'The Singapore Convention will give yet another attractive element to mediated resolutions of international disputes.'
Peer believes mediation has a fundamental advantage over arbitration as it is a resolution that is agreed by the parties, not one that has been imposed upon them. 'The process of mediating a resolution is not necessarily cheaper or faster, but these elements are entirely within the control of the parties. Of equal importance is that while arbitration focuses on the disagreements of the past, mediation often resolves those disputes by focusing on future possible cooperation between the parties,' he says.
'Mediation is such a sensible way to preserve shareholder value and avoid transactional costs that one hopes that the Singapore Convention will encourage increased use, in light of the convention's promise that agreements resulting from mediation are enforceable,' says F. Peter Phillips, a commercial arbitrator and mediator.
'While the convention should enhance Singapore's already preeminent reputation as a centre for international dispute resolution, its effects will be felt globally.'
Sonia Kolesnikov-Jessop, journalist
"'The process of mediating a resolution is not necessarily cheaper or faster, but is entirely within the control of the parties'"