Olympic torch lights the way for Anastasia
A summer's volunteering at the greatest sporting show on Earth inspires Athens professional to go faster, higher and stronger in her career
"Accountancy is a social science first, and it is about helping people"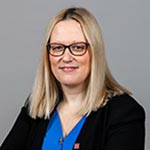 When Anastasia Chalkidou volunteered at the Olympics in her native Athens in 2004 it fired the starting gun on a career that placed community service at its centre.
She was 20, working during the days and studying at the Athens University of Economics and Business in the early mornings and evenings - but Anastasia took a holiday to help spectators at the tennis stadium throughout the sporting showpiece.
It was an experience which changed her life.
'It has stayed with me ever since,' said Anastasia, who is the co-founder of a digital accounting and IT consultancy based in the Greek capital.
'I had never been sporty. I was a ballet dancer when I was a girl. But I didn't want to miss an event that would happen only once in my lifetime. There was such a strong sense of community, of bringing people together in a joyful way, and I loved every second.
Four tough years
'It made me realise that I wanted a career which was about making a contribution to society. My life with ACCA has been a big part of that.'
While spending a tough four years - one for each letter - qualifying with ACCA, Anastasia worked in audit with PwC and then banking before a bold move to Brussels where she lobbied on behalf of the profession for Accountancy Europe (then called Federation of European Accountants).
It gave her a crash course in the practicalities of international taxation, anti-money laundering, SMEs and SMPs. But most significantly it was in that time working closely with EU colleagues when Anastasia grasped that digital transformation held the key for the future for the finance profession. The trend for more and more digital integration across borders was high on the EU's agenda, and Anastasia knew that firms who didn't understand the change would struggle.
When she returned to Athens with her husband, an IT expert, they pooled their skills to launch their consultancy, Quantum BITS. It has grown into a vital resource for Greek SMEs to find the expertise they need to develop the digital accounting and IT resources they need to compete in a super-connected world.
'It was our vision to create a hub for those services which Greek businesses really needed, and we've achieved that,' she said. 'We employ 10 people and we have customers all over Greece and as far away as the UK. Quite often they have great ideas of what they want to do, but don't know how to make it happen. We help them make it happen.
"My work completes the picture for me of what ACCA brings to the world"
'It is really falling into place now because the past 3 years have been revolutionary for the Greek Government that has made reducing bureaucracy a major part of its policy and brought digitalisation to the forefront.
'We feel that we are making a really positive contribution for society in the way we can do that best. In my mind accountancy is a social science first, and it is about helping people.'
Anastasia has also carried on with her dedication to ACCA by mentoring young professionals, joining the local advisory committee, taking part in the ACCA's Practice Connect hub for SMPs, representing Greece at International Assembly and now serving on the ACCA Council.
'My work completes the picture for me of what ACCA brings to the world.
'It provides such a broad range of services and support for members, and it acts as a force for public good in so many ways.
'Now when people ask me why membership matters and why they should pay their fees, I point to the countless benefits it brings and the question answers itself.'