Babajide makes his childhood dream come true
Eureka moment pointed the way to accountancy
"There is so much good we can achieve in the world, and it is a privilege and an honour to play a part in helping it happen"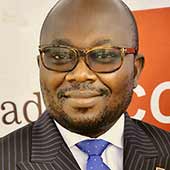 Ask an eight-year-old boy what he wants to be when he grows up, and there are a few favourite answers.
Footballer. Pilot. Astronaut.
Not for little Babajide Ibironke.
Even at that tender age, the farmer's son was in no doubt where his future lay: he had his heart set on being an accountant.
'I can pinpoint my Eureka! moment precisely,' said Babajide. 'I visited the bank with my father one Monday morning to cash a cheque, and in those days it was a very formal procedure.
'You had to queue at a counter, collect a tally, and then you would be called forward to make your transaction.
'I can recall just as if it was today, that grand banking hall with the high ceiling, and we were called forward to see this brilliant man, immaculately dressed, who looked so important and had such authority. I had never seen a place like it, or a man like that.
"From that moment all of my choices, all of my education, was guided by that ambition: to be an accountant"
I asked my father, 'Who is that man?' He said he was the accountant. And I told him that is who I would be when I grew up.
'And I meant it. And from that moment, all of my choices, all of my education, were guided by that ambition: to be an accountant.'
And so it came to pass. But not before Babajide had broken through any number of barriers, and achieved many 'firsts' in his family, school and community before his dream came true.
His zeal and dedication has led to a varied finance leadership career across many sectors including manufacturing, food, nutrition and wellness, healthcare, banking, education, and most recently as Group CFO of a premier energy solutions provider on the African continent. He has also been elected Nigeria's CFO of the Year in consecutive years. Alongside these achievements, Babajide has continued his journey with ACCA, with the aim of encouraging youngsters who wish to follow the same path he trod into finance.
'I studied first with ICAN (The Institute of Chartered Accountants of Nigeria), and soon after I qualified, I added ACCA too, because it is a global organisation with such an important reputation. I am glad I did, because it has led to everything I have managed to achieve and since I became ACCA my life has never remained the same.
'At first, there was suspicion within the local professional accountancy organisations that ACCA is a foreign qualification, leading to some protectionist policies. But all that is fading away fast, as we now have an MOU with one of them. I have always made it my aim to tell people that ACCA is a collaborator, not a competitor, and that together, we can all work towards promoting the profession we love.
Happy to share
'Accountancy is thriving in Nigeria, and ACCA is widely respected and admired throughout the country.'
Babajide plays his part by devoting his weekends to teaching ACCA students and mentoring young professionals who are eager to make their mark in finance.
'I love to do it,' says Babajide.
'I have had so much pleasure from all my jobs, and working with ACCA, and I am very happy to share with the next generation.
'I was chair of the Nigeria Advisory Committee of ACCA since 2014 and one of the longest serving International Assembly members before joining Council. I was part of the team that started the first ever ACCA tuition in Nigeria, and it was the tuition provider that birthed the remaining tuition providers in the country - two of which I later co-founded.
'There is so much good we can achieve in the world, and it is a privilege and an honour to play a part in helping it happen.'