Striking a spark for the next generation
Cristina plays her part in re-building a nation
"ACCA has played such a big part in my life, and my family's life. I owe ACCA a lot and I feel very loyal and proud to be a part of it."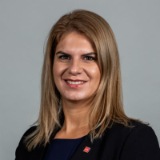 It's easy to understand where Cristina Gutu found her fierce ambition to succeed.
If you had lived as a child in Eastern Europe in the troubled 1980s and 90s, you'd be eager to get on in life as well.
'They were quite tough times,' said Cristina.
'Life was sometimes a fight. For everyone, it was not easy to secure the daily basic needs.
'In the shops there'd be almost nothing on the shelves. Some food was rationed. Each person was allowed half of a small loaf of bread each day. You would have the chance to taste bananas or oranges only at Christmas.
"That's how I think of our Qualification - it makes you smarter every day "
'Some days you would hear that some food had reached the shops, and people would run there to queue for it.
'The children even made some money by standing in line and keeping a place for their neighbours. That was my first job!
'Some of the older people feel nostalgia for those times, because everyone had a job, the streets were safe and everyone had a home. But they forget that although everyone had a flat or a house, there was often no electricity, and it might be 20 degrees below zero and no heating.'
Economic opportunities were slim to non-existent until the political climate changed around 1989, and Romania opened its borders to the world.
It transformed life for Cristina and her country.
'Some of the first international organisations that came into Romania were the Big Four, and when I left university that's where I looked for a job,' she said.
'I was always good at mathematics, and working in finance, for a multi-national company where I could learn a profession and have the change to improve my English language skills on a daily basis, was such a wonderful opportunity.'
Smarter every day
Cristina began at Deloitte, who insisted that new recruits studied ACCA while working.
'At first I thought, "Oh no!" because after university I thought I'd finished with textbooks,' she said. 'But it was a pleasure. It was practical, connected with my work, and I enjoyed doing it. I studied with my husband, who was also qualifying, and he used to say: "I feel smarter every day".
'That's how I still think of our Qualification – it makes you smarter every day!
'They were good times because there was a real sense of re-building a country, and my generation felt that we were playing our part in that.
Talents and skills
'New businesses were coming in all the time, chances were opening up, it was growing fast.' The economy received another boost when Romania joined the EU in 2007.
Cristina's career took her to KPMG, where she now runs their training academy in Bucharest.
'I began to specialise in training because I enjoyed sharing the same spark I enjoyed when I was starting out. I love coaching and being a mentor,' she said.
It also gives her the chance to advocate for ACCA – a cause that has been important to Cristina throughout her career.
'When the ACCA office launched in Romania, there were only a few people working there and I liked to help. I began to do more, to travel around the country helping with events and building our network. It came naturally, and everything I have done with ACCA since has been a natural development of that.
'I am pleased to do it, because ACCA has played such a big part in my life, and my family's life. I owe ACCA a lot and I feel very loyal and proud to be a part of it.'