Ian inspired by early glimpse into digital future
Chance glance at ACCA magazine leads the way to a life in finance
"I have seen the power it holds to change the fortunes of firms for the better"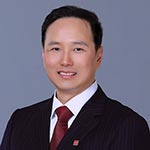 Ian Ng first came across the name 'ACCA' as a school student, flicking through a copy of an ACCA magazine in a meeting room.
Even 25 years on Ian remembers how it switched a lightbulb in his head and gave him the first idea that a life in accountancy might be his future – that it might offer a career that went beyond adding up columns of figures which is what he had imagined it was.
'It was this really fascinating article about what now we would call Big Data and data analytics, but it was so new that those terms hadn't even been invented,' said Ian. 'It was still called 'IT' generally.
'I was really impressed with that scope, imagining how people might work in the coming years. It gave me the first clue that I could have a role in this. And that is how it has turned out, and so much of my career has been linked with digital transformation and making that world I read about all those years ago a reality.'
It took Ian a while to get there though.
Natural choice
He began finance studies in his native Malaysia. He felt the urge to explore new territories, so when fast-expanding Chinese firms cast the net wide for ambitious young professionals Ian packed his bags and headed for Beijing.
Ian worked in the capital for a couple of years before moving to Shanghai, where he has been ever since. He has now lived in the city for longer than he has in Malayasia.
'I feel more Chinese than Malaysian by now,' he said.
He began pursuing ACCA soon after emigrating to China.
Ian said: 'It was a natural choice.'
"To some people it might sound ordinary. To me it's really cool stuff"
'ACCA had already made an impression on me for thinking ahead and looking to the future. It was also growing in popularity in China, and I really wanted a qualification which could open doors and win acceptance in more places than a Malaysian qualification would.'
The qualification sparked his rise in a string of Chinese businesses, and since 2009 he has filled CFO roles.
'The job has changed so much and it is exciting to have been a part of that change,' said Ian.
'The role now is much more than a finance function. Wherever I have been I have been involved in the strategy of embedding digital into businesses' operations, and I have seen the power it holds to change the fortunes of firms for the better. Just lately I have worked on a project where my firm can take orders electronically, directly linked with our main customers' buying platforms, and it brings an absolutely seamless service that works for everyone.
'To some people it might sound ordinary. To me it's really cool stuff.'
Sporting career
Ian has combined his ground-breaking work as a CFO with ACCA service. For three years he has been the steering committee chair in China, a member of ACCA's global Business Forum, and now on Council.
He loves the involvement. His only regret is that his sporting career has gone into reverse at the same time.
'I loved playing football,' he said.
'I began as a winger when I was a teenager, then as I slowed down they moved me back into midfield.
'I played there for a while, then they moved me back to defence, and finally as I entered my 40s I ended up in goal. I couldn't go any further back so I took up golf instead.
'Now I don't have to run, and there is no danger of a quick teenager pushing me out of the way and taking the ball off me.'