Matthew gets his break in tax
Shanghai adviser crowned No.1 in Asia
"I found to my joy that ACCA is an excellent platform for professional networks and for friendships"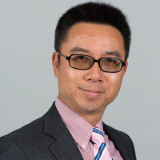 Asia is the biggest continent on Earth. It covers the widest area. It has the most people.
Yet despite the extreme competition offered by countless rivals, from the golden shores of Anatolia in the west to the frozen waters of the Bering Strait in the east; from the remoteness of Rudolf Island near the North Pole, all the way down to the steaming jungles of Indonesia in the south – Matthew Wong from Shanghai emerged as the top tax advisor anywhere in those 45m sq km.
The accolade came his way when Matthew worked for PwC, playing a priceless role in helping businesses navigate China's tax system at a time when the whole world wanted a piece of the astonishing economic growth rolling through the land.
Opportunity
'It was an honour to receive the award, especially as I was nominated by so many clients,' said Matthew, who modestly stepped back from the contest the following year to give someone else a chance of winning.
His story in finance and his trek to the summit of tax practice began as an accounting student in Hong Kong SAR, and the job he took with PwC when he graduated more than 30 years ago. He began studying ACCA at PwC, and has been with the firm ever since.
'I emigrated to Shanghai because that is where I found my opportunity,' said Matthew, and the bold move coincided with the start of his journey as an advocate for ACCA.
'At the same time ACCA opened an office in Shanghai,' he said. 'I began to participate in events, and I found to my joy that ACCA is an excellent platform for professional networks and for friendships.'
As he established his reputation with PwC in Shanghai, he chose tax as his speciality – or rather tax chose him, because it was skills in that field which businesses really needed.
"The skills and training of accountants, ACCA accountants especially, have never been more necessary for the world"
'Attitudes to tax were changing,' said Matthew. 'In the years I have been an adviser in tax there have been so many changes. In China tax has served as an effective way to achieve economic growth. It can be used as a tool to drive growth in specific industries, and a tax adviser has to keep pace with that, and guide businesses through changes in the system. It is a sophisticated process.
'The first big change came when China advanced as the factory of the world, and the leader in manufacturing. Since then it has also grown in technology and service industries.'
Matthew has also seen the status of accountants change during his career, coinciding with the emergence of tax as an important element in economic management.
'I am very happy to see accountants now become senior tax heads at multi-nationals,' he said. 'The skills and training of accountants, ACCA accountants especially, have never been more necessary for the world.'