With connectivity lying at the heart of the development of the Greater Bay Area, demand and opportunities for professional accountants will accelerate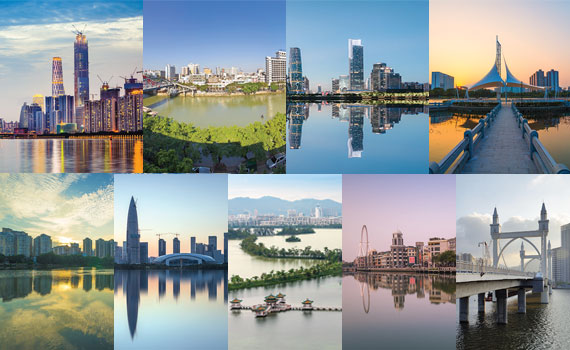 Studying this technical article and answering the related questions can count towards your verifiable CPD if you are following the unit route to CPD and the content is relevant to your learning and development needs. One hour of learning equates to one unit of CPD. We'd suggest that you use this as a guide when allocating yourself CPD units.
This article was first published in the September 2019 China edition of Accounting and Business magazine.
The Guangdong-Hong Kong-Macau Greater Bay Area (GBA) aims to create an economic powerhouse that will spur growth and create a high-end innovation and manufacturing hub in the region.
Hong Kong, Macau and the nine cities in Guangdong province, which make up the GBA, already pack a significant economic punch, with a combined GDP of US$1.6 trillion in 2018 and a population of 71 million people.
Taking its inspiration from international examples such as the Tokyo Bay Area and San Francisco Bay Area, the initiative aims to further accelerate economic growth in the region through increasing the connectivity between the 11 cities and developing synergies between their different industries.
In its outline development plan for the GBA, published last February, the Chinese government set the target of having the framework and infrastructure of a world-class bay area and city cluster in place by 2022, with the economic ecosystem established by 2035. Alongside greater physical connectivity, the blueprint also sets out plans to increase the flow of capital and data, as well as allowing greater market openness and the further internationalisation of the renminbi (RMB).
'Connectivity is the key to the GBA development; and this pertains to not just infrastructure, but also data and capital,' says Loretta Fong, PwC Hong Kong assurance partner. 'More effective and efficient use of resources via greater connectivity will certainly accelerate the region's GDP.'
Improved capital flow
Increasing the flow of capital between the 11 GBA cities forms an important part of the development plan, with greater cross-boundary investment and improved mutual market access both set to be introduced, although no timeline has been given. The development plan states that crossborder investment products will be allowed within the GBA, while a crossborder two-way RMB capital pool will be created and crossborder RMB settlements introduced. Financial institutions within the GBA will be permitted to offer RMB interbank lending and private wealth management products within the region, while enterprises located there will be able to issue cross-boundary RMB bonds.
These initiatives, alongside one of the GBA's other aims to create an innovation and technology hub, create significant opportunities for the financial services sector in Hong Kong.
'Many financial services firms are eyeing the GBA market because of the vast population of high-net-worth individuals there who have benefited from the rapid economic growth in the region over the past decade,' Fong says, adding that accountants can help these firms identify and assess investment opportunities within the GBA.
Lydia Chen, director at Deloitte China Research, thinks Hong Kong-based professional services firms can also offer consulting, financial and risk advisory services, to help Hong Kong companies navigate the complexities of expanding into the mainland.
One of the companies hoping to expand into the region is crossborder payments fintech TranSwap. 'China is a very important market for us. However, crossborder payments are highly regulated, and many rules apply when making payments from the mainland,' says CEO Benjamin Wong. 'For the GBA to be totally successful, there will need to be freer capital market movement. We think it will come; we just don't know when.'
As well as increasing connectivity within the region, the GBA initiative also aims to help companies in the nine mainland cities use Hong Kong as a gateway to expand internationally. Chen expects professional services firms in the city to play a significant role in helping mainland companies navigate the different tax regimes, laws and regulations as they expand globally.
'Hong Kong's international advantages in finance and professional services will lead the GBA into the world,' she says.
Fong thinks Hong Kong could also develop into a high-tech industrial financing centre, participating in the financing and initial public offerings of high-tech companies, as well as acting as a hub for attracting foreign capital to invest in start-ups. Other areas of opportunity include building up the city's capabilities as a global shipping and aviation leasing centre, and becoming a green finance centre.
'Accounting professionals in Hong Kong, who are proficient in capital raising activities, will have a key role to play in all of these aspects,' Fong says.
Increased data connectivity
Alongside financial liberalisation, the blueprint also talks about increasing data connectivity between the GBA cities. While the outline plan is light on detail, it does say a next-generation network based on Internet Protocol version 6 – the most up-to-date protocol which supports the expansion of the internet – will be created within the region.
Albert Wong, PwC Hong Kong consulting director, believes that increased data connectivity will be crucial to the GBA's success.
'Digital data is core in the information age,' he says. 'The availability of digital data has begun to accelerate product development cycles, make teams more productive and responsive, and deepen customer insights.'
Cally Chan, general manager, Hong Kong and Macau, at Microsoft, agrees: 'The GBA aims to leverage the strength of the nine cities through the effective flow of people, goods, capital and data. Among these four areas data is the most fundamental,' she says.
'To unleash the true potential of the GBA, technology is key. Only with seamless data flow can businesses within the GBA accelerate their digital transformation and continue to leverage artificial intelligence to enhance their business performance.'
To support the flow of data into Hong Kong, the Institute of Big Data Governance (IBDG) has been set up. IBDG chairman Allen Yeung believes that one city will need to act as a central data hub within the GBA, and he suggests that Hong Kong is in a prime position to take on this role.
The IBDG is currently creating a set of data principles to ensure that Hong Kong meets international standards on data governance. 'With proper big data governance, Hong Kong can take a leading role facilitating crossborder data flows and establishing itself as the data hub for GBA, for Asia, and possibly globally in the long run,' Yeung says.
Dr Lei Chen, associate dean and associate professor at the School of Law, City University of Hong Kong, also believes Hong Kong is well-placed to act as the GBA's data hub. He points out that the Special Administrative Region already has a sophisticated legislative framework governing personal data through the Personal Data (Privacy) Ordinance, while it has also actively participated in international agreements about crossborder data transfer.
'The realisation of the crossborder free flow of data across the GBA will help to deepen business integration within the region, as well as enhancing China's engagement with the outside world, he says.
'The uniqueness of the "one country, two systems" approach provides opportunities for the crossborder flow of data in GBA.'
He suggests a 'white-list' approach could be taken, enabling the crossborder transmission of data from less sensitive industries to happen first, with more data from more sensitive industries following later.
Yeung points out that Hong Kong already has pro-data centre policies and the capacity to store and process data, with a number of large corporations already setting up data centres in the city, including Microsoft, Google, Huawei and Tencent.
Albert Wong thinks accountants could benefit significantly if Hong Kong did become a regional data hub, pointing out that having a wide range of data at hand would enable them to gain insights in areas ranging from comprehensive investment decisions and scenario and trend analyses, to due diligence and valuation.
Demand for accountants
Other aspects of the increased connectivity the GBA brings are also likely to drive demand for the skills of Hong Kong accountants.
'Mainland China, Hong Kong and Macau have different laws, data privacy and regulatory policies,' says Lydia Chen. 'They have different currencies, tax, investment laws and regulations.
'These create restrictions and challenges for crossborder businesses. Professional accountants and consultants will have to help GBA cities coordinate with each other to find solutions that meet practical needs.'
Leo Yang, tax partner at Deloitte China, says that accountants can also help companies take advantage of the various tax systems.
'Different PRC cities within GBA offer different preferential tax policies, including financial subsidies available from local governments, as each city may have a different industry focus and investment promotion strategies,' he says.
'As accountants and business advisers, we can assist investors in identifying such differences and evaluating the benefits, so that the companies will be able to have a solid base to select the best locations and apply the most efficient business models for establishing or migrating their businesses in GBA cities.'
He adds that while he expects the different tax systems across Hong Kong, Macau and the nine GBA cities to converge over time, in the short term companies will need assistance with compliance and tax planning.
Benjamin Wong agrees: 'Accountants can definitely help to navigate the complexity of the different tax and legal regimes. The more complicated it is, the more you need accountants.'
Nicky Burridge, journalist
"Hong Kong can take a leading role facilitating crossborder data flows and establishing itself as the data hub for GBA"