Predicting an organisation's demise could prove the key to ensuring its survival and ability to prosper in an increasingly uncertain business world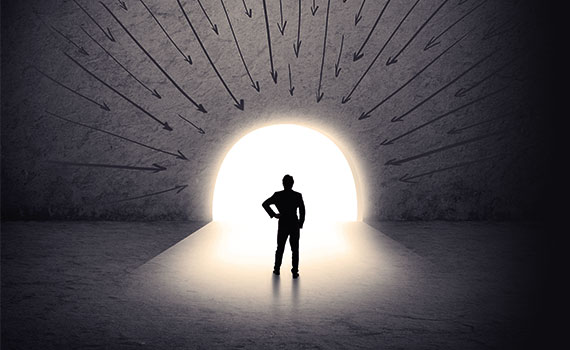 Studying this technical article and answering the related questions can count towards your verifiable CPD if you are following the unit route to CPD and the content is relevant to your learning and development needs. One hour of learning equates to one unit of CPD. We'd suggest that you use this as a guide when allocating yourself CPD units.
This article was first published in the January 2019 international edition of Accounting and Business magazine.
Business leaders are fully aware of the issues they are facing in an increasingly challenging environment where disruption has become the norm. If you add to that the growing uncertainty of trade wars (and in the UK, Brexit), then the prospect of rapid value destruction or even the demise of a company is a very real prospect.
As a result, more and more organisations are starting to perform a pre-mortem. Defined as a managerial strategy in which a project team imagines that a project or organisation has failed, a pre-mortem team works backwards to determine what potentially could lead to the failure of the project or organisation.
The phrase is often attributed to US research psychologist Gary Klein, who said: 'A pre-mortem in a business setting comes at the beginning of a project rather than the end, so that the project can be improved rather than autopsied.'
Prepare for the worst
Despite the logic of conducting such an exercise, there exists a degree of cultural resistance to the idea of predicting the worst possible scenario. That is partly to do with executives having a cognitive bias towards positive assumptions about the future, says Patrick Roberts, director of consultancy Cambridge Risk Solutions. 'We need people to be open to the idea that something bad will happen; they are then more likely to develop a mindset prepared for a crisis and a more resilient organisation as a result,' he says.
But Tara Swart, an executive leadership coach who teaches neuroscience in leadership at Massachusetts Institute of Technology (MIT), says the concept can be a powerful focus for management teams. 'I use the pre-mortem exercise with top teams that I work with in the bio-tech, retail, food and beverage, and financial services sectors,' she says. 'In applying neuroscience to their leadership development, I explain that loss aversion is one of the strongest gearings of the brain, and so we will look out for potential obstacles more than we will seek the reward. By raising awareness of the potential barriers to success, we are more likely to pre-empt them and reach the goal.
'The exercise is also important because it gives everyone a voice. Some people dominate verbal communication, and there are things people are not willing to say openly. Introverts write a lot in these sessions. I ask the teams to write anonymously then I collect up the paper and read it out loud for them to discuss.'
Cultural challenges
In some markets, the concept of the pre-mortem has been slower to gain traction, although some of its characteristics are to be found in earlier management theory. Jeremy Hutchison-Krupat, senior lecturer in operations and technology management at Cambridge University's Judge Business School, says pre-mortems sound like a reframing of relatively old project management and continuous improvement tools.
'An example would be a tool known as FMEA [failure modes effects analysis], which mainly gained its fame in six sigma projects,' he says. 'An FMEA is aimed at doing exactly the sort of thing a pre-mortem seems to do. In other words, it asks managers to imagine what the failure modes could be, what the impact of these failures would be, what the potential causes of such a failure might be, and how the failure could be mitigated.
'There is an important distinction, however, as FMEAs are generally more applicable when the risks are identifiable. In other words, they are related to what we would refer to as a known unknown. FMEAs do not really apply when it comes to unknown unknowns, or the risks that often emerge in highly complex and interdependent projects. So the first step is often quantifying what sort of risks are evident in the project itself.'
Follow-ups
Do management teams follow up on the findings generated by such an exercise? Swart says in her experience companies most commonly do follow up pre-mortems with strategies to avoid the potential pitfalls, and in some cases generate new ideas and alternatives, and action these. 'This is a powerful exercise with specific takeaways, so they can follow up with radical proposals. These take about 12 to 18 months to fully action,' she suggests.
Although Swart says she has not observed a scenario where a company does not follow up on a pre-mortem, she believes there might well be situations where it might prove difficult because of cultural or other challenges.
'It is still considered progressive for teams to work with neuroscience, ' she says. 'However, the rise of artificial intelligence and the massive changes it will bring to the future of work mean more teams are looking for solutions.'
Hutchison-Krupat says the type of follow-up and degree of radicalism involved depend on the different scenarios, or failure modes, identified. 'If disruption is seen as a threat in certain parts of the business, then the response very often depends on the overall position and strategy of the organisation,' he says, 'the key being that a successful organisation will have an honest conversation about the what-ifs.
'Then the response needs to be tailored to the risk. Some companies have created entire organisations to try and disrupt themselves. But this does not mean that this is the correct response for everyone. The first step is to have an honest conversation regarding events or scenarios that could happen, which would have a significant impact on the strategic objective of a project or initiative.'
In the meantime, something slightly akin to a pre-mortem is the concept of the living will that UK banks are required to put in place. These are plans that enable lenders to stipulate in advance how they would raise funds in a crisis and how their operations could be dismantled after a collapse.
Regulators imposed the plans to avoid a repeat of the chaotic events that unfolded in the financial crisis – especially after investment bank Lehman Brothers collapsed in 2008.
The fact that it was the regulator imposing the living will on banks rather than the institutions voluntarily undertaking the exercise suggests how culturally challenging any such approach can be.
Predicting the demise of a company may seem an unpalatable prospect for management teams. But the rapidly changing environment, in which disruption can bring sudden existential threats, may see the pre-mortem becoming standard practice – especially if shareholders start demanding it as part of wider management practice.
Lawrie Holmes, journalist