A new report shows that in order to benefit from the Greater Bay Area initiative, which is set to transform the regional economy, Hong Kong must position itself at its heart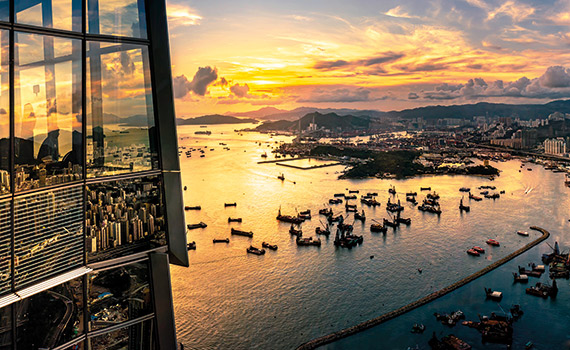 Studying this technical article and answering the related questions can count towards your verifiable CPD if you are following the unit route to CPD and the content is relevant to your learning and development needs. One hour of learning equates to one unit of CPD. We'd suggest that you use this as a guide when allocating yourself CPD units.
This article was first published in the June 2018 China edition of Accounting and Business magazine.
The world's fourth largest core business district – after London, Tokyo and Manhattan – is taking shape in the Pearl River Delta. Much hope is pinned on the economic prospects of this South China powerhouse known as the Greater Bay Area (GBA), but what do business leaders on the ground think? And, perhaps the bigger question: what does this mean for Hong Kong, currently the biggest economy in the GBA, but likely to be overtaken in the foreseeable future by the Chinese mainland cities of Guangzhou and Shenzhen?
ACCA Hong Kong conducted in-depth research, and consulted its members, to find out. Its new report, Greater Bay Area Opportunities – Capitalising Hong Kong's Unique Edge, highlights how the city can gain from China's greatest push for economic integration with the world, and not, as some have feared, get left behind in its wake.
The key lies in Hong Kong's agility – an attribute proven time and again in the city's ascendance from 'barren rock' to one of the world's great international financial centres.
'Our neighbour cities are developing quickly,' explains Eunice Chu, head of policy at ACCA Hong Kong. 'Instead of isolating ourselves or just continuing doing what we've been good at traditionally, Hong Kong should embrace the changes, ride on them and exploit the opportunities.'
The report makes it clear that Hong Kong has a lot of unique strengths that could be further leveraged on, which other cities in the GBA lack, but need, Chu continues. 'So different industries and business leaders should start to think about how they can better apply their advantages in the GBA initiative, and get the most out of it.'
ACCA also urges the Hong Kong Special Administrative Region (HKSAR) government to take action to ensure that Hong Kong derives benefits from the initiative and encourages GBA member cities to work cooperatively and complement each other, instead of competing. Such collaboration will, Chu says, create the synergies 'that drive the entire region to become a new economic powerhouse comparable to other world-renowned bay areas'.
The GBA initiative is an ambitious plan to build a world-class city cluster by linking Hong Kong, Macau and nine cities in Guangdong province: Shenzhen, Guangzhou, Zhuhai, Zhaoqing, Dongguan, Huizhou, Foshan, Zhongshan and Jiangmen. Its aim is to create an economic cluster capable of competing, and even overtaking, similar economic zones around the world such as the San Francisco Bay Area, Greater New York and the Greater Tokyo Area.
With a total population of nearly 68 million, China's Greater Bay Area is already the largest city cluster, ahead of the Tokyo Metropolitan Area's population of 43.5 million. The combined GDP of the 11 cities is US$1.34 trillion, representing 14% of China's national economic aggregate in 2016, with Hong Kong accounting for the lion's share (US$319bn in 2016).
Collaboration and coordination
To achieve its goals, a clear definition and division of roles of each member city is essential, the report finds. This will require stronger collaboration and better coordination among the relevant authorities but 'the payoffs are worth it'. Improved corporate synergies, freer flow of capital, people and services and enhanced ability to penetrate markets are just some of the leading benefits identified as arising from this initiative.
Hong Kong 'undoubtedly' gives the region a unique edge through its connectivity, mature legal system, and expertise in high-end professional services and finance, according to the report. Hong Kong can also benefit by diversifying its economy and emerge as a global innovation and technology hub.
Responses to the member survey conducted by ACCA Hong Kong in January show that 33% believe Hong Kong should position itself as a financial hub to attract international investment and channel this capital to further develop the GBA, while 25% of respondents said the city should be seen as a knowledge hub that could take responsibility to educate and boost financial and professional services across the GBA. Most respondents were very positive about the possible impact of the GBA on Hong Kong's economic and business environment, which resonates with similar findings of separate research conducted jointly by KPMG and the Hong Kong General Chamber of Commerce.
Only a few respondents expressed concerns on possible negative impacts, including the risk that Hong Kong would lose its unique characteristics and global influence (8%), increased competition from a larger pool of labour and suppliers (8%), and the possibility of salaries being driven down to levels comparable with other cities in the GBA (4%).
Understand competitive advantage
Four key recommendations emerged from the research, which also included insights from a roundtable discussion, organised by ACCA Hong Kong, which brought together 17 representatives from enterprises, financial institutions, consultant firms and SMEs. One, described as a 'crucial first step', seeks a clear understanding of each city's competitive advantage to serve as a basis for further collaboration and cross-boundary exchanges at all levels. The HKSAR government is urged to take the lead on this by conducting thorough research and studies by industries and business sectors.
The second highlights the need for Hong Kong to attract, retain and develop talent capable of meeting the growing workforce demands in the GBA. As one of the most cosmopolitan and vibrant locations in the world, Hong Kong offers a lifestyle that should appeal to those wishing to work in the GBA and commute from the SAR.
Thirdly, the establishment of a GBA committee is recommended to facilitate Hong Kong as the 'super connector' between the mainland and the international community. Specifically, ACCA Hong Kong urges the government steering committee already set up to take the GBA development forward to provide more guidelines and resources for local enterprises and entrepreneurs.
The fourth point recommends that Hong Kong offer the right tax incentives to increase competitiveness and spark new growth momentum. This would build on the 'super deduction' for qualifying research and development expenditure announced in chief executive Carrie Lam's 2017 policy address, encouraging corporations to invest in the development of high tech products and/or products with significant intellectual property contents.
The report concludes that with its traditional strengths and legacy, Hong Kong is uniquely positioned to make a difference in the grand plan for the GBA. Findings from both the ACCA Hong Kong member survey and the roundtable discussion show that respondents from the business community are enthusiastic about the initiative, which will bring Hong Kong's development to the next level, while the government's role as facilitator will help develop a keener grasp of the strengths and needs of each city in the GBA.
'Hong Kong is more advanced in many areas, including city planning, waste processing, talent trainings and more, to lead the cities in the GBA cluster,' Chu says. 'Given the city has so many advantages, we are in a good position to capitalise on our unique edge. What is most important now is the tuning of the people's mindsets to realise the potential the GBA offers to Hong Kong's development.'
Peta Tomlinson, journalist
"What is most important now is the tuning of people's mindsets to realise the potential the GBA offers to Hong Kong's development"