Annabel Faulkner
Annabel Faulkner is a senior consultant within Enterprise Risk at EY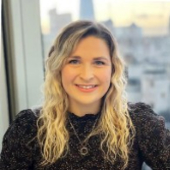 How did you come to be in Internal Audit?
I completed my undergraduate degree in Accounting and Financial Management and then a postgraduate degree in Management and Leadership, therefore the professional services industry seemed as if it would be the right fit for me.
I knew there were a variety of roles and career avenues within professional service firms, although I had not come across Internal Audit before. A friend, who was an internal auditor, discussed her role with me which piqued my interest and so began my career in Internal Audit.
What do you enjoy about being an internal auditor?
I love the variety and unpredictable nature of the role, and that I am constantly learning something new. As an internal auditor, it has been fantastic to get exposure to senior individuals in organisations early on in my career, and I particularly enjoy the social aspect of getting to speak with a diverse range of people in numerous different roles.
I also enjoy that being an internal auditor gives you the unique opportunity to gain a broad understanding of an organisation, learning how it works and providing insight into how it can improve; all of which provides great job satisfaction!