Claire Pretty
Claire Pretty is the head of business risk and assurance at Arriva Rail London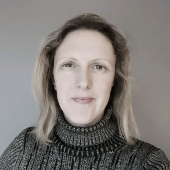 How did you come to be in Internal Audit?
I did a business degree because I wanted to keep my avenues open, uncertain of exactly what I wanted to do. I hadn't found a particular field that I was so interested in that I wanted to commit to it and I was aware enough to understand that the environment was changing at a pace that if I committed myself to one particular field, in all likelihood, I'd be closing doors to other areas. Although I would say that I've committed to a career in this field as I've been working in this field for more than two decades!
I came out of university and was disappointed to find out that outside of university, unless you had taken a route with some work experience, you would be pigeon-holed. As a female – and this was back in 1998 – I was side-lined into secretarial work. I knew I didn't want a secretarial career so I took a role at a Health Authority in the fraud team. I was working with the internal audit team and we talked about what they did and it seemed very interesting. That team operated as a consortium for health authorities and hospitals across four counties so there was quite a spectrum of businesses and geographical areas – and the scope of the work covered core financials as well as other areas that were quite alien to me at the time but seemed really interesting.
At a company-wide finance meeting, I spoke to the Head of Internal Audit and asked him how I might get into that field. As it happened, they were setting up a graduate scheme and were looking for people like me. I started doing the ACCA qualification straight away on the advice of my line manager who said the best career advice ever given to him was to do the ACCA qualification and that it would add £10,000 a year onto my salary. I feel that this still holds true and that's the advice that I give as well – even if your field is not accountancy, get yourself a professional qualification.
What do you enjoy about being an internal auditor?
I see my job as a way to improve the company – a way to make people's employment better because it protects them as well as the business. I like that part of my job is to make sure that we continue to respond to the evolving climate around us. There is a lot of scope to connect to all aspects of the business – in fact I'd say that my role is the most connected across the business.
A lot of the work that I do is to make sure that we are compliant with various legislation and various ways of doing things in our business - making sure that the right guidance is available to people. Where the policies and the legislation are not being complied with, I put in place measures so that everybody knows what they're supposed to be doing, when, and how.