The Global Economic Conditions Survey (GECS) Q1 2023 shows further signs of improvement although confidence remains lower than a year ago

This is the third survey in a row that confidence has risen, as business comes to terms with the fallout from the Russian-Ukraine conflict. The climate has been helped by a faster-than-expected relaxation of China's zero-COVID policies, and a normalisation of energy prices in Europe that should help to reduce headline inflation and maybe bring about a pause in central banks' tightening of monetary policy. The prospect of stronger growth (led by China), lower inflation, and an early end to central bank tightening has also helped boost some of the other results. Although New Orders have flat lined this quarter, there has nevertheless been an improvement in the Survey's Capex and Employment components.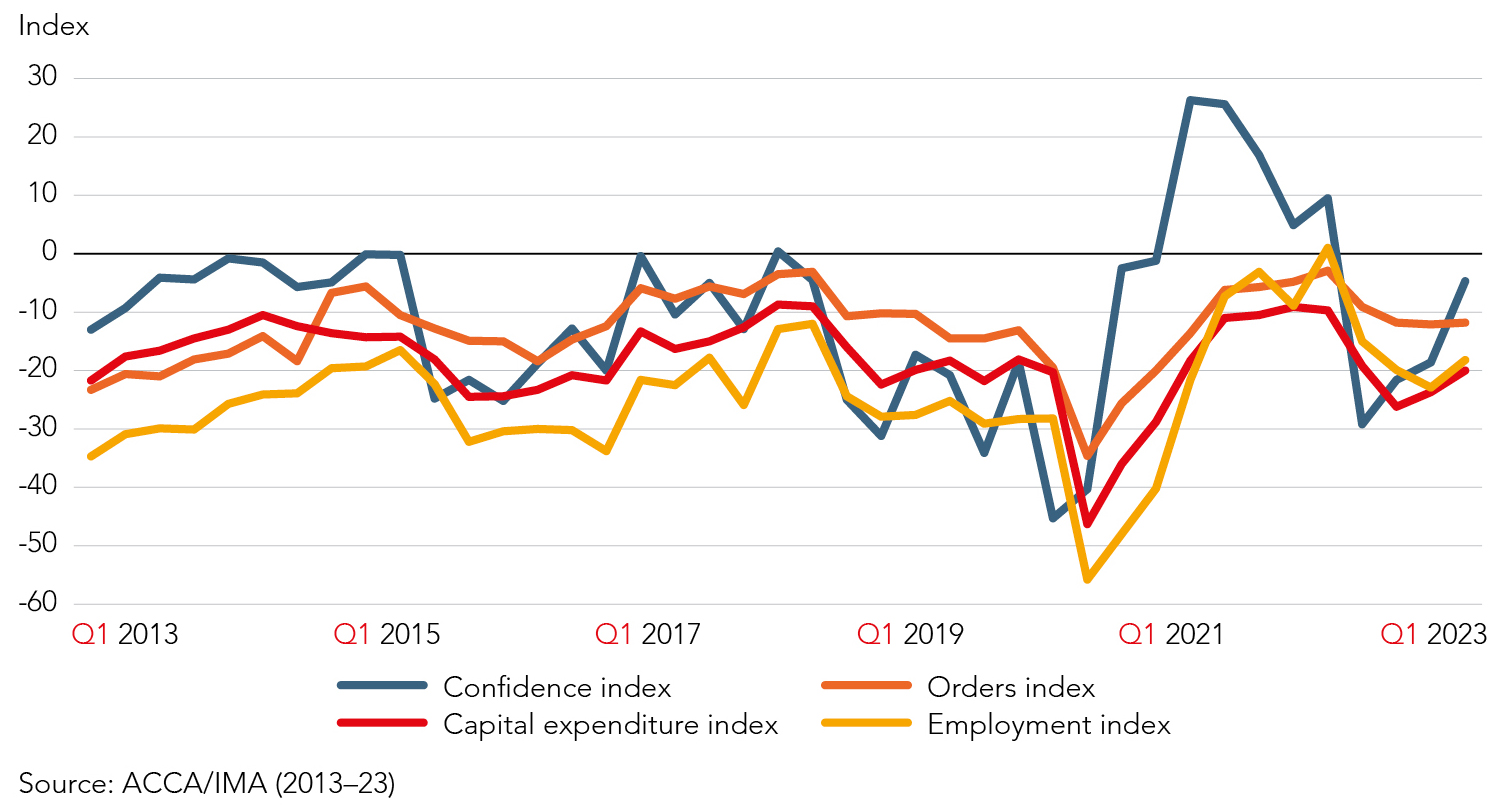 Taking these questions as a whole, the survey panel is less worried about the prospects for recession in 2023. A good cross-check is the two GECS "fear" indices, which reflect respondents' concerns that customers and/or suppliers may go out of business. Both these two series showed an improvement on the quarter, with worries about suppliers at the lowest that they have been since 2020. That said, with Central Banks still raising rates, and given the lagged effect of monetary policy tightening on the real economy, it may still be premature to sound the "all clear".
Jamie Lyon, head of skills, sectors and technology at ACCA says: 'While there is some better news in our survey, growth could still be challenging in 2023 and inflation is proving resilient. Alongside some of the challenges we have seen in the banking sector, this is going to present a policy dilemma for central banks, with higher interest rates to fight inflation potentially impacting growth opportunities as we progress through 2023'.
GECS is the largest regular economic survey of accountants around the world, both in terms of respondents and the range of economic variables it monitors.
Conducted every quarter for over 10 years, the survey provides regional analysis with its main indices measuring economic activity and the views of financial professionals on variables such as investment, employment and costs.

For more detail, including regional analysis, read the full report here.
"Looking at the 12-month picture, confidence is still down across every single region with the exception of Asia-Pacific. This suggests that this may be less about a global rebound, and more about an unwinding of the recession fears that were at their most intense in both North America and Western Europe during the second half of 2022 and which have turned out to be premature."

Jamie Lyon, head of skills, sectors and technology