Positive economic news dominated the world with the US, Europe, China, Russia and India all shrugging off previous fears, setbacks or uncertainties to paint an improving picture.
Global economic confidence improved in the first quarter of 2017 and is now at its highest level since Q2 2015.
While the improved prospects fed through into companies expecting to create new jobs and invest in capital projects, the biggest concerns were focused on increased costs which is consistent with increasing inflationary pressures.
Other concerns are decreased incomes and the negative impact of foreign-exchange movements.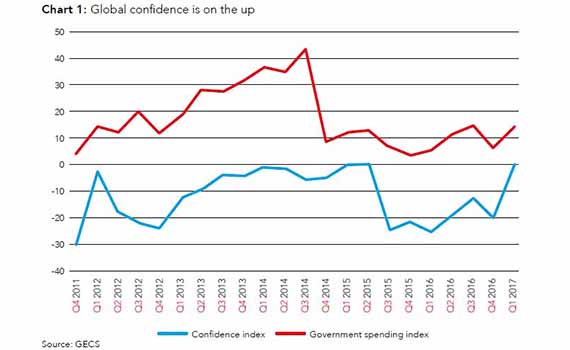 Global trade improvement
Global trade appears to be picking up for the first time since 2013. Trade across the world should grow at a decent rate in 2017 especially as the new US administration edges back from the more protectionist threats.
According to data from CPB Netherlands Bureau for Economic Policy Analysis, global trade in the three months to January 2017 grew by 3.4% year-on-year. This is the fastest rate in nearly two years.
Why is the picture improving?
Economic confidence is on the up around the world for different reasons:
In the US investors are hopeful that a boost from a Trump stimulus would offset any damage from moves to protectionism
Eurozone economic data – including decent growth, an increase in export demand and low core inflation – is encouraging despite uncertain political outlook as French and German elections loom
India is rebounding after last year's short-lived slowdown linked to the government's demonetisation campaign
Russia and Brazil were hit hard by collapsing oil process and currencies but now prospects are improving.
'Bellwethers' of the global economy South Korea and Taiwan – both heavily integrated into global supply chains – are seeing exports grow at their fastest rate since 2012.

About Faye Chua, lead author, ACCA
About Faye Chua, lead author, ACCA
About Faye Chua, lead author, ACCA
"The outlook for global trade growth is uncertain, but developments since the start of the year have been relatively encouraging, and bode well - as least for the short term."
Accountants' key role in economic development
Global economic conditions continue to dominate business and political life.

Research for the Q1 2017 GECS took place between 24th February and 13th March 2017.

ACCA and IMA members around the world responded including more than 150 CFOs.

The Global Economic Conditions Survey (GECS) is the largest regular economic survey of accountants around the world, in terms of both the number of respondents and the range of economic variables it monitors.