Global economic confidence improves slightly, as the economy enjoys the first period of sustained and synchronised expansion since the global financial crisis.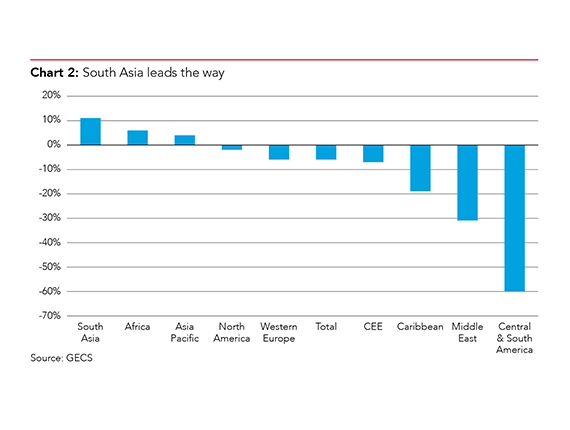 In Q3 of 2017 the percentage gap between respondents expecting conditions to worsen verses those expecting conditions to improve reduced by five points on Q2. This relatively upbeat nature of the survey mirrors the PMIs, global exports and GDP growth, which all suggest that the global economy is doing well.
The US in focus
Confidence in the US fell for the second consecutive quarter in Q2, with the number of people feeling less confident about the future exceeding those feeling more confident; this is the first time this has been the case since Q3 of 2016.
The drop in confidence comes as the administration continues to deal with challenges in pushing through its agenda of healthcare reform, tax cuts and increases in infrastructure spending. Given challenges with getting a tax cut and infrastructure spending bill through Congress, fiscal reforms seem unlikely to come into effect before 2018 at the earliest.
The economy should continue to perform relatively well without a big fiscal stimulus, but these delays will be a disappointment for investors who were hoping for a fiscal-led boost to growth this year.
Asia Pacific riding high
In Asia Pacific, economic confidence increased in Q3 for the third consecutive quarter to reach a new record high. This upswing is likely to be largely due to an improvement in export prospects.
Many of the region's locations, including Hong Kong, Taiwan, South Korea and Thailand, are heavily trade-dependent. The recovery in global demand has therefore given them a significant boost. Growth in these locations is now the fastest in three years.
South Asia looking robust
In South Asia, confidence was higher than in any other region in Q3, and reached its highest level since the third quarter of 2016. This high confidence is mirrored by the underlying economics, with healthy growth expectations for the region's two biggest economies, India and Pakistan.
" We are now in an environment of a synchronised global recovery. The question is how long does that continue? There's nothing in the very near term to suggest that it's going to end"

Claus Vistesen, Chief Eurozone Economist, Pantheon Macroeconomics
Accountants' key role in economic development
Global economic conditions continue to dominate business and political life.

Research for the Q3 2017 GECS took place between 1 and 18 September 2017.

ACCA and IMA members around the world responded including more than 150 CFOs.

The Global Economic Conditions Survey (GECS) is the largest regular economic survey of accountants around the world, in terms of both the number of respondents and the range of economic variables it monitors.