The China-Pakistan Economic Corridor is here, and businesses in Pakistan are ready to collaborate as part of China's massive Belt and Road initiative.
Interview with Mustafa Hyder Sayed, executive director, Pakistan-China Institute
China's international development project – the Belt and Road Initiative – incorporates the China–Pakistan Economic Corridor (CPEC), a modern silk road.
The key to the corridor
The CPEC is a combination of investments that seek to bridge Pakistan's energy deficit and so rejuvenate its ailing industrial base, and loans.
The aim of this development is to create the first North–South link between the 'Belt' and the 'Road', converging on the Gwadar Port, the linchpin of CPEC.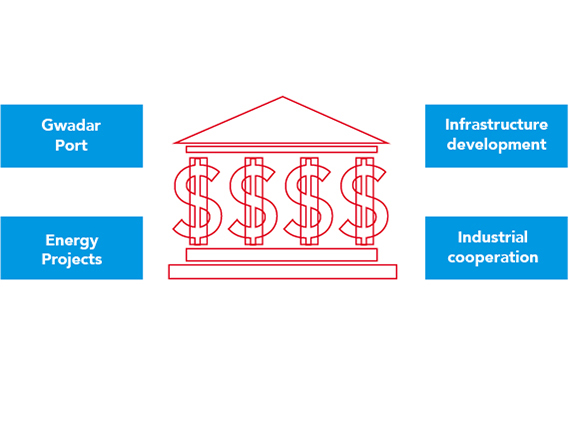 Figure showing the four key pillars of CPEC investment: Key pillars of CPEC investment Gwadar port, energy projects, Infrastructure development and industrial cooperation
Business readiness for change
ACCA surveyed 500 finance professionals across Pakistan. 79% believe that the changes due to CPEC would be incorporated into their business strategy within five years and the way their businesses work would adapt to the expected growth and change.
Changes identified:
Organisations need to consider and analyse the impact of B&R initiative globally and its impact on the way business is conducted in Pakistan
Efficient allocation of resources to compete globally
Organisations in the IT and communications industry will need to consider major investment in human and organisational development, to enable them to compete globally and facilitate collaboration between Pakistani and Chinese technology companies
Geo-political influences should be included in the scope of business risk assessments. Competing with Chinese firms on production costs will be tough and it is expected that trading with China will increase because of the infrastructure development linking the two countries, inevitably increasing competitive pressures on local products. Risk-management mechanisms must be adapted to allow timely identification of any business risk.
Finance skills for the future
Better communication (advocated by 68.7% of respondents) and better business analytics (66.1%) to deal with the expected changes, along with taxation knowledge (52.2%) and leadership ability (52%) will also be key for finance professionals in Pakistan to take advantage of the expected changes the CPEC will bring.
Finance and business professions can prepare themselves for the business growth that will take place:
Understand how it will affect their lives and organisations
Learn from the 'early harvest' projects taking place
Take stock of the additional skills required to take advantage of infrastructure improvements
Visit China and meet relevant Chinese companies
Develop detailed future strategies based on the long-term implications of CPEC
Think carefully about cross-border trade and the Chinese cultural and ethical values.
"Our joint ACCA and PCI report aims to encourage businesses to think ahead about possible scenarios for better strategic planning for growth and risk management."
About the Pakistan-China Institute (PCI)
Launched in October 2009, under the Chairmanship of Senator Mushahid Hussain Sayed.

Devoted to promoting people-to-people relations between Pakistan and China.

A key player in fostering multilateral dialogue and promoting cultural and economic connectivity.

A unique bridge between Pakistan and China to develop a closer, strategic partnership.

Generates discussions and analysis on multiple aspects of the diplomatic relations between China and Pakistan.

Serves as a resource to all those who seek a better understanding of the changing dynamics of regional relations, particularly in relation to Pakistan and China.