Openness and transparency
Lawmakers should be open and transparent with businesses when designing and implementing business law.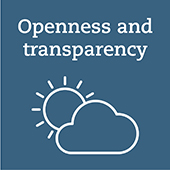 Government and business exist side by side as essential supporting pillars of society. Government relies upon the continuance of economic activity to support it and society both directly and indirectly. To create the greatest returns, business will require a predictable environment. Government should give indications of its future intentions and the direction in which it wants to steer the business environment. This allows businesses to plan for the long term and encourages a degree of stability.
Governments should consult with stakeholders in business before implementing new business laws. Ministers must recognise that they will not necessarily be best placed to appreciate all the factors and pressures influencing business decisions. Consultation and open conversation will aid understanding and help to ensure that laws designed to meet the wider needs of society do not inadvertently introduce sanctions or incentives that distort the desired outcomes. Governments should give a reasonable time frame before implementing new business laws to allow businesses to plan efficiently.