In an increasingly complex world, what is the role expected of leaders in managing risk? How can they maximise the opportunities as well as protect their organisation?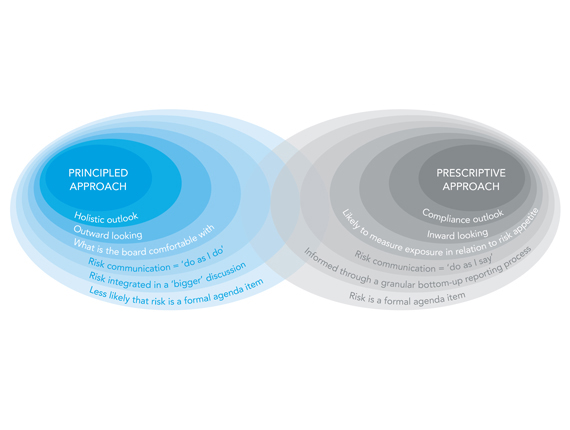 A spectrum of practices
Board-level conversations and practices in relation to strategy and risk management take place along a spectrum, with many boards being nearer to one end of the spectrum or the other.
The extremes of the spectrum can be characterised as:
The Principled approach, where discussions about risk are more likely to focus on the exploitation of upsides and opportunities, and connect strategy and risk in an implicit and unstructured way, but potentially leading to inconsistent risk management decisions
The Prescriptive approach, where risk-management activities are much more formalised and consistent, but a high degree of focus on internal control may mean that strategic opportunities are missed.
Board diversity drives 'risk intelligence'
Diversity (in its broadest sense) enables the board to understand the 'risk-reward equation' better. This diversity can be summarised as Risk Intelligence, Skills, Knowledge, Experience, Education, and Training (RI-SKeet). The enrichment and enhancement of strategic decision making brought about through RI-SKeet ensures a balanced collective board intelligence that is, allowing it to explore fully the dynamics of the risk–reward equation.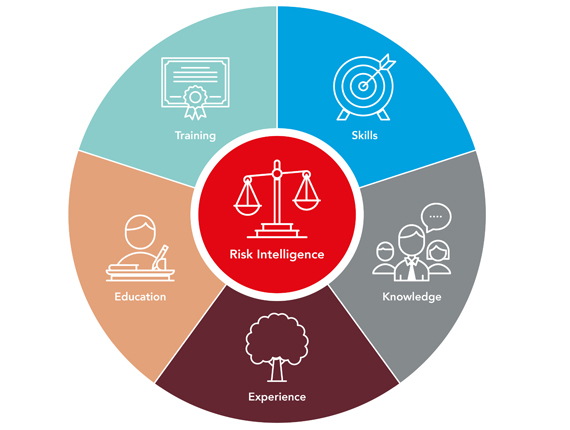 Risk Intelligence, Skills, Knowledge, Experience, Education, and Training (RI-SKeet)
Reducing barriers
The process of making risk more visible to the board is fraught with difficulties as there are multiple barriers that inhibit this from occurring.
These barriers fall within two categories; 'cognitive impediments', which reduce a board's ability to make risk-sensitive strategic decisions, and 'social obstructions', which suppress risk-relevant dialogue in the boardroom.
ACCA would like to thank the following researchers for their work :
Dr Simon Ashby University of Plymouth
Dr Cormac Bryce University of Nottingham
Dr Patrick Ring Glasgow Caledonian University
Suggestions for boards
Integrate risk and strategy

Derive value from your risk management

Deliver board diversity (RI-Skeet) to enable balanced risk intelligence

Take actions to manage and enhance the quality of board risk discussion