Businesses are looking to digital transformation to beat pandemic slump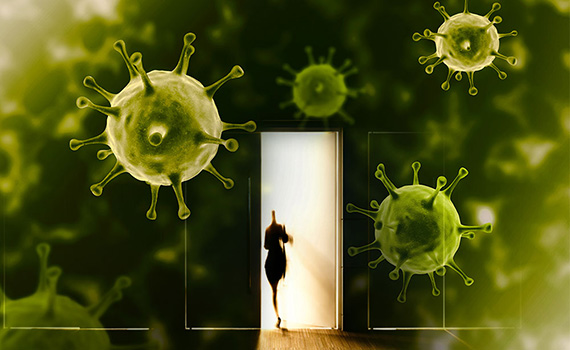 Studying this technical article and answering the related questions can count towards your verifiable CPD if you are following the unit route to CPD and the content is relevant to your learning and development needs. One hour of learning equates to one unit of CPD. We'd suggest that you use this as a guide when allocating yourself CPD units.
There are two standout features of the Covid-19 pandemic: its global nature and how digital technology has been used to tackle its impact. It is difficult to understate the role that technology has played, both in tracking the disease and finding treatments, and in helping society, organisations and economies to adapt during and in the immediate aftermath of the worst of the crisis.
Against this background, a new study from ACCA shines a light on how digital technology will be in the forefront of recovery. The report, Digitisation and the global pandemic, builds on ACCA's earlier three-pillar framework of Act, Analyse and Anticipate, as used in its recent Covid-19 global survey The road to recovery?, to demonstrate how a centralised digital approach is providing an important compass on businesses' roadmap to recovery.
One step backward, two steps forward
Even though the pandemic may have curtailed technology expenditure in the short term, it is clear that many organisations are now more likely to increase their digital budgets. A recent ACCA global survey of more 4,000 finance professionals around the world, titled Meaningful work for the digital professional: roadmap beyond the pandemic, suggests that nearly half (44%) are scaling back planned technology projects as a result of the crisis.
Yet the same survey also reports that over the longer term of five years, far fewer (17%) expect this scaling back to remain among their top three challenges. In fact, for many, Covid-19 has fast-tracked the use of digital in high-priority areas that involve daily interaction with staff and clients.
The inference is clear: the route to recovery passes through the staging post of greater engagement with digital technology.
As Sam Ellis, chair of ACCA's global technology forum, says: 'The Covid-19 global pandemic has taken organisations into uncharted waters and has required courage, flexibility and high-calibre professionalism from our members to steady the ship.
'By facing these challenges head-on, we are plotting new courses as we look towards a new horizon with glimpses of new adventure and opportunity. Some are closer than others to this world of new opportunity, but we are all in this together and as a community of members we will not leave anyone behind.'
The three As
So where will these new adventures and opportunities be found? The three As framework of the Road to recovery report (Act, Analyse, Anticipate) makes it clear how digital is key, especially in the third A, Anticipate. Focusing on digital transformation, the report sets out how the workforce, stakeholder engagement, organisational models and sustainable operating environments will all be transformed.
Looking at how digital will transform the workforce, the Digitisation and the global pandemic report points to the gig economy as potentially one of the winners. On-demand talent supply will help to create and augment existing teams, and only a minority of workers will be present in the office at any one time.
Kelly Liao, a tax partner with KPMG in China, says: 'In the future, we'll set up more conference rooms in our company, which must be reserved like a hotel reservation, with employees no longer possessing fixed office space, and project teams booking conference rooms. This contactless/remote office model can greatly cut the company's operating costs and is likely to become the norm for most jobs.'
Stakeholder engagement will be equally transformed by technology. The Digitisation and the global pandemic report says: 'Organisations are thinking more critically about what their digital footprint says about their values and respect for the community. Building trust along these dimensions can prove to be more effective than marketing based simply on product features.'
Richard McLean, chief financial officer at SAP Asia Pacific Japan, agrees. He says: 'There's a huge opportunity for everyone in the business community to positively influence a mindset shift from the traditional way we have done business. We live in a digital era, with global customers, colleagues and communities. This is a time to embrace technology and get comfortable with working from anywhere.'
Covid-19 will inspire the digital transformation of organisational models as well. The report says this will be fundamental to the entire digital agenda. Referencing ACCA's report The digital accountant: digital skills in a transformed world, the Digitisation and the global pandemic report notes the continuing shift towards a slimmer enterprise resource planning (ERP) approach, with organisations relying on a central repository of data, accessed through cloud-based applications.
Sustainability
The final aspect of this digital transformation centres on sustainability. The ability to operate in environmentally sustainable ways is a key narrative. There is an aspiration for a 'green recovery' – ACCA has itself signed the Green Finance Education Charter.
'For most industries, this pandemic means we have to begin afresh,' says Joseph Owolabi, ACCA Council member and CEO of Rubicola Consulting in Australia. 'It will require a rethink of corporate strategies, applying integrated thinking by exploring opportunities to embed sustainable practices in business operations across the entire value chain. There will be trade-offs. This may be our chance to begin anew, for the future, for our planet.'
Narayanan Vaidyanathan, ACCA's head of business insights and author of the Road to recovery report, says: 'As an organisation we are demonstrating how the accountancy profession is mounting a response to the crisis through both risk management and embracing change as an opportunity. These are the views of ACCA's stakeholder base, setting out how organisations are preparing for the future.'