Should you pay a ransom to restore hacked data? It's one of the new set of ethical dilemmas thrown up by the digital age that accountants face - and must resolve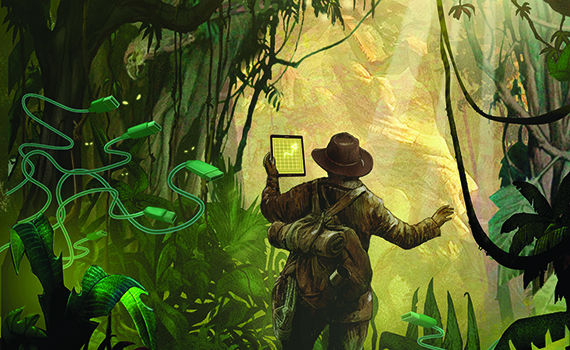 Studying this technical article and answering the related questions can count towards your verifiable CPD if you are following the unit route to CPD and the content is relevant to your learning and development needs. One hour of learning equates to one unit of CPD. We'd suggest that you use this as a guide when allocating yourself CPD units.
This article was first published in the October 2017 international edition of Accounting and Business magazine.
Technology is changing our world, and the way in which we interact with each other, beyond all recognition. A fundamental transformation of the workplace is under way, as automation and digitisation replace jobs, processes and tasks. This, as ACCA's report Professional accountants – the future points out, is driving significant change in the skills that accountants need if they are to continue to be effective in the workplace.
That research identifies ethics as one of the key skills needed by professional accountants for continued success – in fact, it predicts that ethics will become even more important in the years ahead. But has our understanding of ethics changed in a digitised world? Will the five fundamental ethical principles set out by the International Ethics Standards Board for Accountants (IESBA) – integrity, objectivity, professional competence and due care, confidentiality, and professional behaviour – remain relevant as we enter the machine age?
This is the question that a new ACCA report, Ethics and trust in a digital age, addresses in detail. It revisits what it means for the professional accountant to be ethical in a technology-led world. Using the results of a survey of more than 10,000 accountants and students across 158 countries, as well as roundtable discussions with senior practitioners, the report builds a clear picture of how ethics is valued and applied by professional accountants every day, as well as the challenges they face in practice.
The report finds that despite technology introducing new ways of working, the majority of accountants around the world still see ethics as a very important attribute. Some 90% of those questioned agreed that ethical behaviour helps to build trust in the digital age, while 95% of senior executives said that an accountant's ethical behaviour helps the organisation to build trust with internal and external stakeholders. 'In other words,' says the report, 'technology may have an impact on the details one needs to understand in order to be ethical, but it doesn't change the importance of being ethical.'
Ethical dilemmas
The researchers asked respondents about their experience of dealing with ethical challenges at work. One in five (19%) said they had personally felt pressure to compromise their ethical principles in the previous 12 months. Nearly a quarter (24%) said they had seen behaviour within their own organisation that compromised their ethics policy and standards, while 19% had seen instances of compromise within a client company (see graphic, page 39). Among the C-suite executives questioned, 43% said they believe from their experience that accountants act ethically at all times, but 47% said they had seen accountants acting unethically from time to time.
Of those accountants who had felt under pressure to compromise their ethical principles, half said the fundamental principle compromised was integrity; 44% said professional behaviour; 42% said the principle of objectivity was at risk. Dealing with stakeholders in government or the regulator was cited most frequently as the source of ethical pressure by respondents in both business and practice. What is of concern, though, is that 41% did not report the incident.
The report says that the reluctance of a substantial minority of accountants to report incidents 'may suggest the need to explore whether there is sufficient support and encouragement to ensure that professional accountants feel able to report inappropriate ethical behaviour'. But it adds that the context of each individual organisation is important: '"Speak-up" behaviours may flow more naturally when the culture is more aware and supportive of ethical conduct; in other words, forcing a policy may not always be the most effective method.' Fewer than half of the accountants questioned in the study said they would be in favour of a formal speak-up policy.
Impact of digital
To explore how digitisation changes ethical dilemmas and decisions that accountants come across in their working lives, the report considers modern ethical situations across six digital themes:
cybersecurity
platform-based business models
big data and analytics
crypto currencies and distributed ledgers
automation, artificial intelligence (AI) and machine learning
procurement of technology solutions.
The IESBA fundamental principle most often seen as being at risk of compromise in the digital age is professional competence and due care. This may be, says the report, a reflection of the extent to which ethical situations in a digital age can present new information that has not been seen before.
When asked if accountants need to be better prepared to deal with ethics in a digital workplace, 53% of C-suite executives surveyed said some improvement to their skills will be needed. They argued that while accountants have a generic understanding of issues such as cyber risk, they may not have considered how the organisation's digital operations will evolve and the ethical issues this may pose in the future. A new Ethics and Professional Skills module for the ACCA Qualification replaces the existing module in October this year. It has been designed to develop essential ethical judgment and behaviour by exposing students to realistic business situations.
Ethics begins with the individual
So what are the responsibilities of accountants in encouraging and upholding ethical behaviour at work? It seems that the vast majority of accountants (more than three-quarters) believe that upholding their own professional code is the priority – the approach that 'ethics begins with me'. Two-thirds of respondents said that embedding ethical standards in day-to-day procedures was the best way to contribute to the organisation's ability to uphold ethics.
Only about half of respondents, though, said that embedding ethics into the strategy of a business or the business plan was the best way to contribute. This, says the report, 'may suggest a need to combine a procedural or tactical understanding with a wider view – something that may become particularly important when looking ahead to new or previously unseen situations in a digital context'. It is particularly important to understand the underlying strategy and purpose when it comes to new procedures that do not have years of testing and understanding behind them, it adds, such as when platform-based operations are adopted. Taking a strategic view, argues the report, can help to reduce unintended consequences.
Strong leadership was cited as the top area where support is needed to promote ethics in organisations. This is essential, as ethics depends on the tone at the top. It is also important because, as automation of the workplace progresses, good ethical judgment will become even more important for senior decision-makers to ensure that 'innovation is supported in a way that does not compromise the right way of doing things'.
Overall, the message of the report is that while accountants have the basic tools and skills to make the sound ethical decisions that are so valued by employers and business, the digital age will throw up new challenges. 'Ultimately,' the report concludes, 'ethics is about human behaviour – technology merely changes the context within which an ethical decision must be made.' Even so, professional accountants will need to develop a rounded skillset that complements their technical capability – and the ethical quotient lies at its heart.
IESBA's five principles will still provide the foundation for behaving ethically and instilling trust in a digital age. Professional accountants will need to learn new information relatively quickly and apply their judgment to this information, often in situations they may not have experienced before. It will be important to have an open mind – recognising the value of what has been learnt so far, but also understanding that this knowledge must be placed in the context of new situations as they evolve.
Liz Fisher, journalist
"Technology may have an impact on the details, but it doesn't change the importance of being ethical"