In the latest article in a series on market disruptors, Tony Grundy looks at how 
long-distance car pooling is heading up the fast lane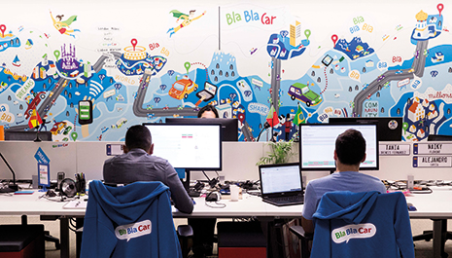 Studying this technical article and answering the related questions can count towards your verifiable CPD if you are following the unit route to CPD and the content is relevant to your learning and development needs. One hour of learning equates to one unit of CPD. We'd suggest that you use this as a guide when allocating yourself CPD units.
This article was first published in the June 2016 international edition of Accounting and Business magazine.
In a previous article, 'Upsetting the apple cart' (AB, March 2016), we saw how Uber transformed the taxi market by means of clever technology, more efficient allocation of rides to resources to accomplish a journey at less cost, and offloading the burden of cab ownership onto the cab driver. But what about longer-range journeys? Cue BlaBlaCar, founded in 2006 by French entrepreneur Frédéric Mazzella.
Mazzella realised that the way people undertook long-distance car journeys was inefficient. The majority of trips made by four-seater cars typically involved one driver and no passengers. He realised that the internet could be used to connect people making more or less the same journey at a particular time so that they could share the cost and save the environment.
BlaBlaCar now boasts three billion miles shared, with 10 million passengers carried per quarter, saving an estimated one million tons of carbon dioxide in the last year. The average journey is 213 miles. The company operates in 22 countries including Belgium, France, Germany, Italy, the Netherlands, Poland, Portugal, the UK and India. It is valued at more than US$1bn and has raised capital in a number of large tranches. Some independent estimates have put its revenues at around US$70m.
As an intermediary, BlaBlaCar arranges each journey for a fixed commission of 9.9% (plus VAT) of any fee that is agreed between driver and passenger. This also includes 'free' insurance. In economists' parlance, BlaBlaCar has achieved a 'pareto improvement' - an outcome where no one is worse off - and in terms of game theory, a 'positive sum game'. And it is an example of a high volume, low unit value business.
You can imagine how this might appeal to a long-distance commuter who drives into the city for work on a Sunday night and home again to the provinces on a Thursday or Friday evening.
In terms of customer value-added, there are further benefits: it turns the journey into a more social experience and in some cases has led, according to customer feedback, to valuable friendships being struck up. So there is not only a 'deliberate value' but also an 'emergent value' – one that is not the primary intention of the transaction.
There some potential downsides, though - a driver who is late, for example, or drops you off somewhere short of your destination, or has a really filthy car - but, as with sharing sites such as eBay and Airbnb, it is possible to leave a poor review via the rating system.
Global track
BlaBlaCar is looking to expand further. It needs to consider a number of significant factors in its global expansion plans, including the percentage of private car ownership in the local market, fuel prices and the availability of public transport. In the latter case, good public transport links could be important, as drivers may need to drop their passengers on the edge of town, from where they would need to complete their journey by municipal bus. (The US would not be a sensible target market if these factors are taken into consideration.)
Another consideration is expanding to include more complex journey types, such as a week's worth of commuting.
Some of the strategic issues that fast-growing organisations such as BlaBlaCar should consider include:
Looking out for potential new competitors
Future developments in customer needs – diversification
Developing, evaluating and prioritising country-by-country strategies
Acquiring and developing highly skilled management
Developing a financial strategy to support rapid expansion
Forging alliances with other third parties – eg, for database sharing.
Dr Tony Grundy is an independent consultant and trainer, and lectures at Henley Business School