Watch this free webinar, the third in the Adding power to your business intelligence series, which focuses on using Power BI to create rich and interactive analysis tools.
Overview
Do you wish your dashboard summaries could be constructed quickly and provide interactivity with end users seeking to focus on key aspects or scenarios of such reports? Ever feel you spend more time preparing and less time analysing? Not sure you are identifying all of the key inter-relationships at play in a business?
Then Power BI is for you.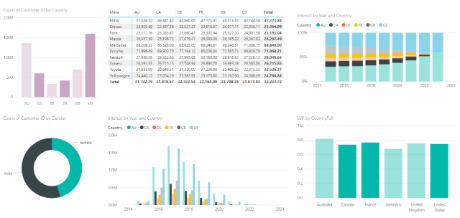 Developed by Microsoft as both a web-based experienced and as a desktop application, this standalone software can assist you in preparing the dashboards of your dreams as it takes, automates and elevates the process of reporting and generating dashboards.
This webinar summarises how you can design rich and interactive analysis tools that look like they have spent weeks in development. In short: this is deeper business insight in a fraction of the time, using intuitive tools that can be readily obtained and implemented.
What you will learn:
how to understand the interplay between Power Pivot, Power Query and Power BI – knowing when to use which and why
how to convert your knowledge of Excel into powerful and intuitive dashboards by using Power BI to automate your reports
how to create charts simply by asking a question
be able to explain key reasons for variances and trends
how to identify outliers and correlations in seconds.
Who should attend
Anyone who has ever tried to summarise business performance or communicate key strategic issues in real time – not weeks after the fact.
Speaker - Dr. Liam Bastick FCA FCMA CGMA MVP
Managing director of boutique modelling firm SumProduct, Liam is the author of An Introduction to Financial Modelling and has over 30 years' experience in financial model development/auditing, valuations, M&A, strategy, training and consultancy. He is a senior accountant and professional mathematician who has worked with and trained accountants, bankers and analysts all over the world.
Liam has been recognised seven times by Microsoft as an 'Excel Most Valuable Professional in Excel', one of 84 in the world as at the time of writing.
Please note, this webinar is best watched in Google Chrome, or the latest version of your browser.
Prices

All attendees
Free of charge
You will be redirected to an external website for booking.